Hick to sign pair of bills in Avon on Saturday
Governor comes to town after combative legislative session
Gov. John Hickenlooper will conduct a bill-signing ceremony at Walking Mountain Science Center in Avon on Saturday, inking into law a couple of fairly benign bills from Democratic state lawmakers with local ties.
"We have received confirmation that the governor will sign Sen. Gail Schwartz's SB 175 Habitat Stamp as well as Rep. [Millie] Hamner's SB 224 Protect our Rivers license plate at the Walking Mountains Science Center in Avon, CO (318 Walking Mountains Lane Avon, CO 81620) on Saturday May 18," the Eagle County Democratic Party announced Thursday. "The signing time is 9:30 a.m."
Schwartz represents Vail and surrounding Eagle County in the state Senate, and Hamner is a former Eagle County educator who used to represent the area in the state House until redistricting last year. She still represents neighboring Summit, Lake and Pitkin counties.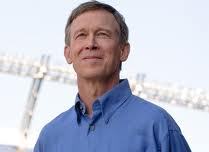 Hickenlooper, also a Democrat, comes to town after a hard-fought legislative session in which he carried the torch for key progressive issues such as civil unions and gun control. Despite those controversial new laws coming out of the Capitol, Hickenlooper remains popular and in the driver's seat for reelection in 2014, according to fairly recent polling.
Republicans, meanwhile, are floating candidates like embattled and highly polarizing Secretary of State Scott Gessler and famously anti-immigration former U.S. Rep. Tom Tancredo – a third-party candidate in 2010 whom Republicans accused of splitting the conservative vote and handing Hickenlooper the governor's mansion.
But Hickenlooper, a former oil and gas industry geologist turned brew-pub baron, is taking heat from Colorado's growing liberal base of fracking activists and environmentalists. Many Democrats were upset with how he worked behind the scenes to defeat tighter regulations for the drilling industry this session, and he's still undecided on a bill to increase renewable energy in rural areas.
While a GOP candidate like Gessler or Tancredo would land Hickenlooper plenty of Latino votes, the governor's environmental record – or lack thereof – may at some point start to disillusion young voters increasingly energized by the fracking debate. He's also been very lukewarm to the state's rush to legalize and regulate recreational marijuana.
Whether or not those issues would translate to a primary challenge from a youth-vote candidate remains to be seen, but right now he looks like a lock in 2014.

---

58 Comments on "Hick to sign pair of bills in Avon on Saturday"