Finally turning the page on 2012
This is my first Real Vail blog post of the New Year and it comes three weeks in. Sorry about that.
My wife caught a nasty case of pneumonia over the holidays that landed her in the Vail hospital for a week (thank you so much to all of the incredible docs, nurses and therapists who helped her recover). You know who you are … and you guys truly are the best.
We've had three kids at the VVMC and now a couple of surgeries and I truly feel blessed to live in a place with such an awesome hospital.
Anyway, Kristin is slowly and steadily recovering from what everyone tells us was a brutal respiratory infection (she had to have surgery to drain her lung) – to the point where we were actually able to cross-country ski on the groomed track around our house at Eagle Ranch.
What an awesome community benefit that is. We're loving the ability to skate ski right out our door. And on Saturday I pulled the double, Nordic skiing in the morning with Kris and then alpine skiing with the boys at Vail in the afternoon. Very fun.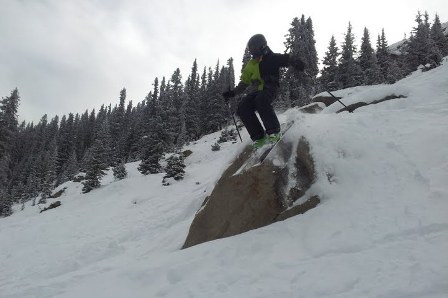 Let me just say this about the snowpack in the Vail Valley these days. We are once again enjoying a sub-par winter (61 percent of annual average), and I do mean "enjoying."
Vail and Beaver Creek are in incredible shape. Mountain ops crews have kept them skiing very well considering the lack of snow in January and November. Thank the Snow Gods for a great December or we would be really hurting.
Still, virtually everything is open, and last weekend my oldest son Nick and I found great powder stashes on Lovers Leap at Blue Sky Basin (see photo).
This past Wednesday was one of the better days I've had this season, with a couple inches of fresh and Outer Mongolia closed for the previous two days. There was a legit six inches of untracked snow there. A friend and I did seemingly endless low-angle laps.
I get it though. This is nothing like two seasons ago when Vail was buried under a record 525 inches. This is a lot more like last season, when we were way below our average annual 350 inches. But I'm telling you, the skiing is still pretty damn good.
I went over 100,000 vertical on Saturday and am closing in on 1 million vertical since EpicMix was first launched a couple of seasons ago. Because of extenuating circumstances I've "only" skied 12 days so far this season, but I hope to improve dramatically on that number with the snow cycle becoming more favorable toward the end of the month and hopefully well into February and March (often our two best months for snow).
Opensnow.com says that's exactly what's going to happen. A weak system should soften things up with an inch or two by the weekend, and then the last week of January sees a series of storms that will hopefully dump plenty of fresh on top of what really is a respectable base. Let's hope that's what really happens.
Another factor impacting my Real Vail posting is my recent relationship with the Mountain i Journals, a growing network of sites run by a group of entrepreneurs out of Aspen. Locally, they have the Vail Business Journal, which I've been contributing to with increasing regularity the last few weeks. Please bookmark them and go to their sites early and often.
These guys have a great plan to monetize their sites in a way that I've never been able to with Real Vail and Real Aspen, and they've been great to work for so far. Be sure to check out all of their sites from Denver to Boulder to Telluride to Durango.
My latest contribution is a column on the Manti Te'o hoax and its parallels to the "Alex" scam here in the Vail Valley. I also sprinkled in my take on the Lance Armstrong debacle.
Finally, it's been nearly a year since my last regular posting on the Colorado Independent website. I enjoyed the vast majority of my three-and-a-half year run with that organization, but they have gone in a different direction (which seems to entail very infrequent posting) while, in my opinion, rapidly ceding relevance in the Colorado news site landscape.
That could change with their hiring of former Denver Post and Huffington Post columnist Susan Greene, but only time will tell. I've missed the TCI venue for the opportunity it afforded me to report on energy and environment news from the Western Slope, but I'll still be able to do some of that for the Mountain i Journals and occasionally Real Vail and Real Aspen.
For instance, check out this story I did on the politics of the coal-mine methane power plant spearheaded by the unlikely bedfellows of Bill Koch, the Aspen Skiing Company and Holy Cross Energy.
Regardless, I wish the reporters if not the administrators of TCI all the best moving forward. Hopefully, they can restore a once-proud brand to relevance. For me, it's way past time to move on in life. Onward and upward in 2013.
---

831 Comments on "Finally turning the page on 2012"