Powder daze: Vail sees 40 inches (and counting) since Dec. 7
VAIL — A white Christmas is no longer a dream here. It is now a certainty.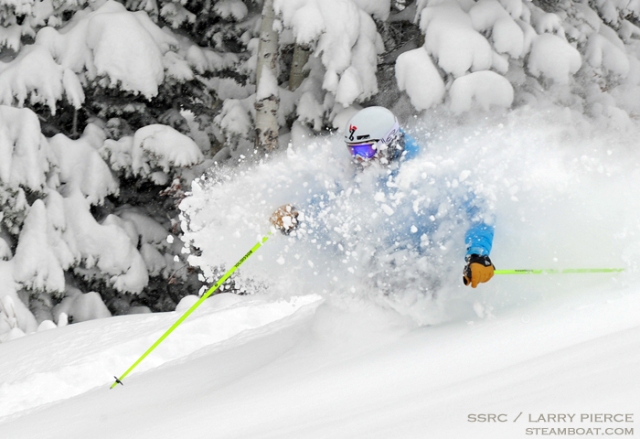 Snow has been continuously falling since Thursday in Vail and the skiing has improved dramatically. The days of testing our luck on the so-called "white-ribbons of death" are now firmly behind us. In the last three days, 18 inches of fresh snow have graced Vail's slopes making for true powder days both yesterday and today. Wind loaded some runs with even more snow, like near the trees to the right of Northwoods where it was splashing above skier's knees as they bombed down the mountain. With eight inches of new snow this morning, and even more predicted to fall tonight, face shots can't be far away.
After a dreadfully dry first couple of weeks to open the ski season, 40 inches have fallen in Vail since Dec. 7. There are rumors the Back Bowls could open this weekend, which would be nearly a month earlier than they opened last year, which was one of the driest on record in Colorado's high country.
Not a bad way to celebrate Vail's 50th anniversary, which included concerts over the weekend by the Shins, Michael Franti & Spearhead and Wilco for its annual Snow Daze celebration.
Over the weekend, the storm slammed southern Colorado especially hard with Durango Mountain (aka Purgatory) and Wolf Creek seeing totals above a foot. Many of the Interstate 70 resorts, as well as Steamboat, fared well with 6 inches here, and 4 inches there, to combine for ample accumulations.
Aspen won the weather lottery Dec. 9 when it saw 15 inches fall from the sky while other resorts saw only half of that, but this storm hasn't been kind to the Roaring Fork Valley so far. Only a few inches have fallen at the four resorts that make up Aspen/Snowmass in the last few days though that may change. AspenWeather.net is predicting 10 to 14 inches by tomorrow morning and Joel Gratz at OpenSnow.com is forecasting 7 to 12 inches on Aspen's mountains by the end of Wednesday. Flakes are currently trickling down in Aspen but they are expected to pick up speed tonight.
"The snow will wind down by early afternoon on Wednesday for most areas, and Thursday morning will look like a postcard. Blue skies. Cold temperatures. Frosted towns. Evergreen trees turned white," Gratz wrote in his blog this morning, noting that this storm should paint most, if not all, of the state white tonight.
Moisture is expected to dissipate for a few days with more in the forecast on Sunday — just in time to not only ensure Colorado a white Christmas but perhaps a powder-filled one as well.
---

10 Comments on "Powder daze: Vail sees 40 inches (and counting) since Dec. 7"