Heat is on for Colorado high country, Turner's climate war, Armstrong and Contador
Colorado's autumn heat wave has the state's ski resorts putting snowmaking efforts on hold even as Denverites hit local pools and media mogul Ted Turner was in town to blast the U.S. Senate's failure to act on climate change legislation.
Loveland ski area cranked up its snow guns
briefly last week when the first dusting of new snow fell in Colorado's high country, but even at 13,000 feet
that coating quickly evaporated
with temperatures that tied a record with 90 degrees on Sunday and shattered a record with 92 on Tuesday.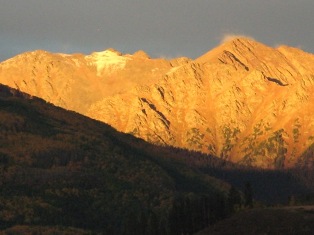 Turner, meanwhile, speaking at a Colorado Conservation Voters luncheon in Denver Tuesday, was clearly disappointed with the failure of the Senate to pass any meaningful climate legislation this session.
"It is such a complicated issue," he said,
according to the Colorado Independent
. "It is the most complicated issue humanity has ever faced. It is easy to be a naysayer, and the opposition has learned that it is easier to do nothing. They have done a good job of casting some doubt on global warming."
Great weather for heading to the high country
, though, beating the city heat, checking out the changing leaves and maybe doing some fall cycling before breaking out the boards next month. That's what
seven-time Tour de France winner Lance Armstrong did in Aspen on Sunday
, even as a Los Angeles grand jury started looking into doping allegations against him.
And now comes the
news that Alberto Contador
, winner of three of the last four Tours, tested positive for the banned drug clenbuterol and may be stripped of this year's Tour title. If that happens, he'd be only the second man to lose his title for taking performance enhancing drugs, joining the disgraced Floyd Landis in 2006.
Landis, if you recall, at first bitterly denied his positive test and then admitted to cheating, fingering Armstrong and other riders for allegedly doing the same thing but just not getting caught. His accusations in part led to the Los Angeles grand jury probe of Armstrong.
The Armstrong camp, reportedly, is taking it all in stride.
"I think you're always going to have people that are negative and haters and trying to spin stories to get attention or money," Armstrong's girlfriend Anna Hansen told the Associated Press. "I think you have to focus on the positive. That's kind of what we've been trying to do is focus on family and devoting our time to causes we care about — like this."
Hansen, a former Vail-area resident who worked for the First Descents cancer camp, has one child with Armstrong and another on the way.
---

331 Comments on "Heat is on for Colorado high country, Turner's climate war, Armstrong and Contador"