Weather pattern appears to be shifting at Vail, Beaver Creek
Jet stream swinging south, bringing snow
Finally, a break in some of the warmest driest fall weather on record in the Vail Valley. A series of small storms will head in beginning Wednesday night and running through the weekend, forecasters say, depositing several inches of white gold on the slopes of Vail and Beaver Creek.
The even better news is that the prevailing jet stream appears to be shifting to the south in a more favorable weather pattern that should lead to a series of storms rolling through Colorado ski country next week as well.
Only about three inches are on tap for Wednesday's storm, according to
Opensnow.com
, but even that amount is welcome after a painfully high and dry November. Then a much colder storm will deposit up to another five inches over the weekend, bringing along serious chilly temps that will greatly accelerate snowmaking. Next up is a storm heading in on Tuesday.
All of this is great news for the ski industry, which has been nervously eyeing the skies since the last significant storm on Nov. 10. Resorts like Aspen Highlands and Ski Sunlight have pushed back opening dates as they await new snow and colder temps. Looks like they're getting their wish.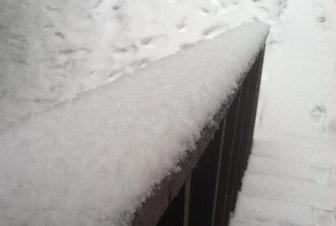 Also, snow riders around the globe have understandably been reluctant to book trips to the Vail Valley. Hopefully, web cam shots of falling flakes will soon reverse that trend.
The big difference between this season and last season's record low snowpack is that we had decent snow early on and the Christmas and New Year's holidays, while a bit low on available terrain, were generally a success. Then it stopped snowing the rest of the season and we had a very challenging overall 2011-12.
It's all a matter of perspective, of course. Those of us lucky enough to live here can be choosy and only head out on powder days, which were ridiculously plentiful in 2010-11, a season that saw Vail break its annual snowfall record. But if you're from a snow-challenged part of the planet, skiing groomers in Lionshead over and over can be pretty fun.
As a kid growing up skiing East Coast resorts in Pennsylvania I didn't know that spending the entire day trying to carve turns on blue ice was a bad thing. I loved it, in fact. It wasn't until I moved to Colorado that I developed my own personal "four-or-more-out-the-door" rule of only skiing powder days.
I had to relax that significantly last season and rediscovered the pleasure of just making turns with the kids, regardless of conditions. Hopefully I won't have to fully convert to the new paradigm, though. That's why I'm eagerly eyeing the skies and frantically snow dancing in my basement. Please join me, either privately or in person.
---

171 Comments on "Weather pattern appears to be shifting at Vail, Beaver Creek"