Vail's dubious anniversary sparks compelling conversation
Today marks the 14th anniversary of the Vail arson attack deemed the worst act of eco-terrorism in U.S. history. Two members of the Earth Liberation Front torched Vail's mountaintop Two Elk Lodge, patrol headquarters and the top lift terminals of Chairs 4, 5, and 11.
I was an editor and reporter at the Vail Trail and Daily Trail newspapers at the time and vividly remember that day and the aftermath of the crime that caused $12 million in damages but didn't result in any injuries or death. I relived some of that history Monday in a story on the Vail Business Journal website.
Vail Resorts' CEO Rob Katz was in New York City earlier this week to pick up a Travel + Leisure Magazine environmental award, and he remarked in an interview with me beforehand, "For a company that obviously was on the receiving end of one of the most impactful acts of environment terrorism back in 1998, to go from that all the way to this [award] I think is great."
I also recently interviewed Vail Mayor Andy Daly for a 50th anniversary piece that will appear in the holiday issue of Vail Beaver Creek Magazine. I asked Daly to relive the Vail fires, when he was president of Vail Resorts.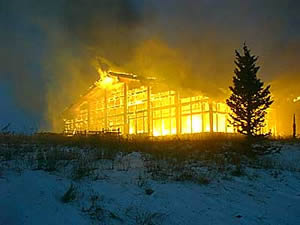 Daly talked about the remarkable push to get all the lifts fixed and have a temporary Two Elk Lodge (dubbed One Elk) up and running for ski season a little over a month later. Daly rallied the employees and the community after the fires that were set in the name of the endangered Canada lynx.
Environmentalists felt the Blue Sky Basin ski expansion (known as Category III back then) would damage prime lynx habitat, so two ELF members set the blazes and sent the Vail Trail and other news organizations an email claiming responsibility. It was chilling to see that email pop into my inbox.
The man who set the fires, William Rodgers, killed himself in prison after being arrested in 2005. His getaway driver, Chelsea Gerlach, is still in a federal lockup but reportedly will be released next year.
It was an intense period in Vail's 50-year history – one that will no doubt get considerable play in media recaps of the resort's first five decades – but I'm not sure how it fits into the broader picture of environmental activism against the industrialization of public lands.
There's a new book out on the topic by Northern Arizona University historian Michael Childers entitled "Colorado Powder Keg: Ski Resorts and the Environmental Movement." He was recently interviewed by Ryan Warner of Colorado Public Radio.
It's an interesting topic – particularly if you lived and worked in a ski during that time – and Childers gave a thoughtful interview on CPR. I haven't read the whole book, just excerpts on Amazon, where I noticed references to Two Elk as "Two Elks" and saw name misspellings such as Andy Daily and Rob Pearlman instead of Daly and Perlman. Errors aside, the subject matter is compelling.
"At the heart of his book is the fact that skiing in Colorado brought with it tremendous growth," Warner writes on the CPR website. "Starting in the 60's, Vail went from ranchland to world-renowned resort in the span of a decade. And growth continues today. Some embrace it. Others loathe it. Concerns over growth famously led Colorado voters to reject the '76 Winter Olympics after Denver had been named host city."
I've always thought that growth came anyway, and that former Gov. Dick Lamm perhaps only succeeded in stalling it a bit by leading the charge against the Games. Lamm seven years ago – for an article on Beaver Creek's 25th anniversary -- told me he still thinks rejecting the Olympics was the right the thing to do.
"I come down on believing strongly that the voters did the right thing," Lamm said. "The history of the Winter Olympics was a history of red ink, and I believe it would have left Colorado with a very large expense and a worse environment."
If nothing else, Lamm started a dialogue that remains lively to this day. Earlier this year, I wrote about contemporary conservation groups feeling left out of an ongoing push to get the Olympics to finally come to Colorado – a lifelong dream of Vail founder and acclaimed ski racer Pete Seibert.
Promotional verbiage for Childers' book says he "shows how what started as an innocent leisurely pursuit has morphed into a multi-billion dollar business that forever changed the landscape of Colorado and brought with it serious environmental consequences."
But having covered the mining, oil and gas industries the last four years, I have a hard time pointing to skiing as one of the worst uses of public lands, particularly since Beaver Creek – conceived for those 1976 Winter Olympics but not opened until 1980 – is the last major resort to have been built in the state.
Stacked up against an underground coal mine or a new uranium mill, ski terrain expansions of a few hundred acres seem pretty benign. It's the sprawl that comes with resorts that prompts the most intense criticism, and one wonders how much of that growth would have come without skiing as a catalyst.
After all, the planet is now home to 7 billion people, many of whom have figured out that mountainous areas are pretty nice places to hang out, especially in the summertime as the planet continues to get warmer.
---

11 Comments on "Vail's dubious anniversary sparks compelling conversation"