Signs of ski season: Bode Miller, Warren Miller, snow gun battle in Colorado
You know it's almost ski season when:
1. Bode Miller's getting his knee tweaked for what may be one of his last cracks at the Birds of Prey downhill at Beaver Creek (oh, and a win on the Hahnenkamm wouldn't be a bad career-capper either).
2. Loveland and Arapahoe Basin are busting out the snow guns for the annual race to open the first white ribbon in Colorado this season.
3. Warren Miller is trotting out yet another edition of his annual season-teasing ski film.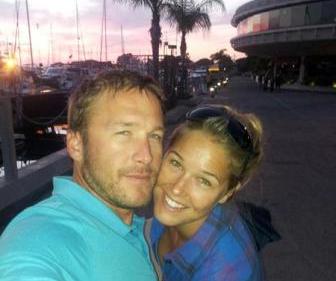 First Bode. The good news is he's back on snow after a knee injury cut his World Cup season short in February. But he flew home from Portillo, Chile, for a surgical evaluation of his left knee (tweeting "things are looking great in there") and so will have to rest the knee a bit while hanging with his new fiancé – professional volleyball player Morgan Beck – in California.
Here's a story I wrote for
Vail Business Journal
on Bode's comeback.
Miller's also slated to check out his racehorse, Carving, at Santa Anita on Saturday. But U.S. Ski Team officials say he'll be back on snow and training next month. That should put him on track to defend his Birds of Prey downhill title from last year on Friday, Nov. 30 at Beaver Creek.
As for getting the recreational ski season off and running after a dismal 2011-12, a slow-moving storm brought lots of dustings up high the last few days but it wasn't ideal weather for snowmaking. Apparently not cold enough.
"Our countdown to snowmaking ticker hit 0:00," Loveland's
website
read on Thursday. "Sadly, the weather has been a little too warm and humid at night to fire up the snow guns. We're hoping for better weather maybe towards the weekend (fingers crossed). Once we hear, we'll let you know. Thanks for being patient."
Finally, look out this fall for the Vail Valley's very own Christ Anthony, once again appearing in the annual Warren Miller flick. Chris posted this sneak preview of his 10th Mountain Division segment in "Flow State," the 63rd annual Miller movie.
The film won't show locally until late November but there are
plenty of opportunities
to screen the movie earlier in the month on Colorado's Front Range. And here's a
sneak preview
of Anthony's contribution, which is particularly timely given this is Vail's 50th anniversary season and many of its founders served in the 10th Mountain Division.
---

25 Comments on "Signs of ski season: Bode Miller, Warren Miller, snow gun battle in Colorado"