Peyton's great, but wouldn't you rather have RGIII?
If you're Denver Broncos' executive vice-president John Elway, what coaching-QB combo would you rather have right now: John Fox and Peyton Manning or Robert Griffin III and Mike Shanahan?
Asinine question, right? Especially after the 36-year-old Manning showed the whole world that he's clearly fully recovered from four neck surgeries as he broke down a depleted but still dangerous Pittsburgh Steelers' defense in a 31-19 win Sunday night.
But RGIII, at the tender age of 22, just showed Washington why long-suffering Redskins fans have a lot to be excited about for at least the next decade in D.C.
How long will Peyton's run be in Denver? And realistically, will it end with a Super Bowl victory?
It's quite conceivable, based on Washington's 40-32 road win in New Orleans Sunday and the way Griffin played (320 passing yards), that RGIII and Shanahan could get to the Super Bowl before Peyton and Elway.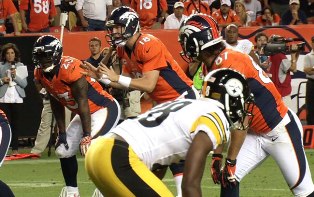 Better yet, the Broncos and the Redskins meet in the Super Bowl, with Elway exacting revenge for his 42-10 defeat at the hands of the Hogs in Super Bowl XXII. And he'd be able to do Shanahan the way he did Atlanta Falcons' and former Broncos' head coach Dan Reeves in Elway's final game in Super Bowl XXXIII -- not that Shanahan and Elway have any bad blood.
But one has to wonder, would Shanahan -- the coach who guided the Broncos to back-to-back Super Bowl victories when Elway was 37 and 38 -- ever have left town if he'd been able to reload with an RGIII or even another Stanford grad in Andrew Luck?
What if Shanahan had just been given enough time to develop Jay Cutler, the QB he finally did draft in the first round?
These are all questions that must haunt Broncos' owner Pat Bowlen just a little bit, even as he basks in the glory of bringing Elway into the executive fold to right the wrongs of the terribly misguided Josh McDaniels' era.
McDaniels, the same age as Manning, turned the team upside down a few years ago, running Cutler out of town and burdening the team with a slew of questionable draft picks – not the least of which was a first-rounder he spent on current New York Jets' backup and Distraction in Chief Tim Tebow.
All Tebow did for the Broncos last year was help the team win just enough not to be in on the Luck-RGIII sweepstakes. That will be the final insult lingering from the disastrous McDaniels-Tebow experiment.
Elway, on the other hand, has made all the right moves, including trading Tebow, bringing in Manning and spending his top picks the last two years on defensive standouts Von Miller (two sacks Sunday) and Derek Wolfe (one sack Sunday).
But Bronco fans should curb their enthusiasm somewhat. The upcoming schedule is insanely tough based on the performance of opposing teams on Sunday. Next up is the Atlanta Falcons on the road for Monday Night Football – the same Falcons that crushed the Kansas City Chiefs 40-24 Sunday.
Then it's a home game with the tough Houston Texans, a team that made the Miami Dolphins look silly in a 30-10 trouncing on Sunday. Then there's a winnable home game against the Oakland Raiders, although they always play tough in Denver of late, followed by road games against New England and San Diego before the bye.
The Denver Broncos will be lucky to be 3-3 by the bye, even after the opening victory against Pittsburgh.
Don't get me wrong, I'm elated Elway landed Manning and jettisoned Tebow, but even if everything goes exactly as scripted and the Broncos make a deep run into the playoffs and beyond, Manning will be out of here in three years tops.
Based on what I saw Sunday in New Orleans, Washington is like Denver in 1983 when Elway first orchestrated his escape from the Colts and landed a mile high. Whereas Denver in a few years will be ushering in the Brock Osweiler era.
Let's hope that happens after a couple of more Lombardi trophies.
---

12 Comments on "Peyton's great, but wouldn't you rather have RGIII?"