Getting the 'hole' story on Tennessee Pass non-sinkhole
When is a sinkhole not a sinkhole? Apparently when it's just a hole.
Like the one atop Tennessee Pass along U.S. 24 between Red Cliff and Leadville. The Colorado Department of Transportation (CDOT) still has that section of highway closed because of a hole that opened up earlier this week.
CDOT put out a press release Thursday clarifying that it's actually not a sinkhole, just a hole leading down to a century-old collapsed railroad tunnel that I've seen alternately described as either 40 or 100 feet deep.
Too deep to plunge a car or bicycle down, that's for sure. As I reported on Thursday, CDOT is scrambling for a solution to the problem because they'd really like to get the road back open – something I imagine most Leadville residents would appreciate too.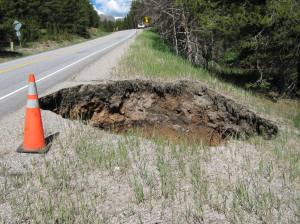 But also the hole is along the route of next month's USA Pro Cycling Challenge Stage 4 between Aspen and Beaver Creek. That's our only big stage this year after organizers scrapped the legendary Vail Pass time trial – the stage in which Levi Leipheimer seized control of last year's Challenge.
That was Stage 3 last year, and Leipheimer set a new course record up Vail Pass, knocking American Tejay Van Garderen out of the overall lead and never looking back.
Van Garderen is now the top young rider and top American in this year's Tour de France. He sits in seventh, nearly seven minutes behind GC leader Bradley Wiggins after today's Stage 12. Wiggins and his second-place teammate, Christopher Froome, won't be racing next month in the Pro Challenge. Organizers couldn't land their Sky team.
But 2011 Tour winner Cadel Evans, a teammate of Van Garderen on BMC Racing, will be back this year, and so will new third-place rider Vincenzo Nibali of Liquigas-Cannondale. Evans is now fourth in this year's Tour, more than three minutes behind presumptive winner Wiggins.
Last year the Pro Challenge had the full Tour podium – reportedly the first time ever in an American cycling race – with both Andy and Frank Schleck joining Evans. Only Frank (now 12th in this year's Tour) will be in Colorado next month. Andy, the 2010 Tour winner, is recovering from a broken pelvis.
Still, there will be plenty of story lines and great action in this year's Pro Challenge – not the least of which will be the ongoing sinkhole saga. Excuse me, hole story.
---

640 Comments on "Getting the 'hole' story on Tennessee Pass non-sinkhole"