Warm spell brings great spring skiing to Vail, leaves locals dreaming of more powder
What would Colorado mountain town residents rather have right now: Peyton Manning or a powder day?
I'm just guessing here, but since most ski-town denizens in this state hail from Elsewhere, USA, they could give a rat's about the fortunes of the Denver Broncos and would rather see a strong finish to a below-average ski season than Manning replacing Tim Tebow as Denver's QB next season..
After a promising start to March (you know, coming in like a lion and all that), the month has curled up like a kitten napping in a ray of sunshine. Local powder hounds hungry for the deep stuff have been forced to sniff around for scarce bones the last couple of weeks (the majority of the season, really).
The good news, however, is skiers from around the globe who like to bomb down groomed cruiser runs in Colorado's legendary sunshine have been basking in spring-break glory since our last measurable snow on March 3.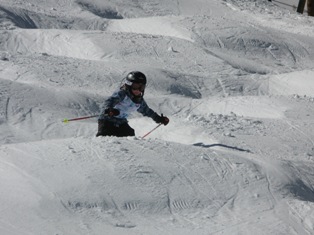 That's about to change on Sunday, when a weather system rolls in from the south and possibly coughs up a few inches of new snow in Colorado's northern anf central mountains. Unfortunately, it looks like yet another storm that will favor Colorado's southern San Juan Mountains. Then things dry out again through the rest of the week.
The weather of late has been more conducive to road biking and youth baseball down-valley in Eagle, and things will have to turn around in a hurry for Vail (just 207 inches so far this season) to reach its annual average of 350 inches a season.
Vail closes and the snow count shuts down just a month from now on Sunday, April 15. Beaver Creek shutters for the season a week earlier on Easter Sunday, April 8.
Breckenridge, celebrating its 50th anniversary, has decided to buck the trend and actually extend its ski season. It's the only resort opting to stay open longer this season.
Breckenridge will open lifts and runs at Peak 8 only, including the Imperial Express SuperChair (the highest in North America), two more weekends. Originally set to close in mid-April, Breck will re-open Friday, Saturday and Sunday, April 20-22 and April 27-29, from 9 a.m. to 4 p.m. each day.
And the resort will offer a special 50th season ticket price of $50 for anyone without a season pass, plus free parking in the gondola lots.
Now, maybe evening Manning will be able to make a few turns before training camp.
---

9 Comments on "Warm spell brings great spring skiing to Vail, leaves locals dreaming of more powder"