Even in a low-snow year, Crested Butte delivers the goods
Off the grid and off the hook: CB serves up FestEVOL concerts this weekend
While I live in Vail and obviously love skiing Vail Mountain and nearby Beaver Creek, Crested Butte has to rank among my favorite ski resorts in the state. Much of that love affair has to do with just how remarkably different Crested Butte is from my hometown mountains – and just how unique, fun and far-flung of a ski town CB truly is.
I've written in the past about how much of an asset Crested Butte's location can be, taking it
off the Interstate 70 corridor
and out of the greater ski-burbia grid. A good day at Vail (20,000 skier visits) is a good week at Crested Butte, where a huge day is 5,000 people on the mountain.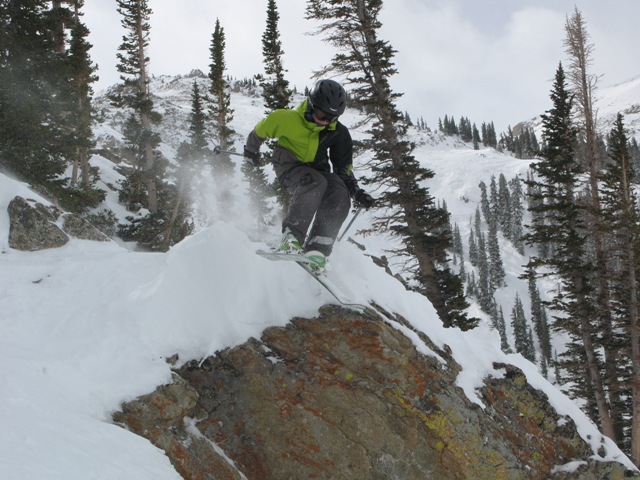 But its distant location on the other side of the Elk Range from Aspen makes Crested Butte tough to get to (about three and half hours from Vail and five hours from Denver) and no doubt generates some challenges for the resort operators, especially in a low-snow season like the one we're currently experiencing.
Crested Butte has long been known as an extreme-skiing Mecca, with steeps and chutes not found at many of the other ski resorts in Colorado. But that overall verticality (Rambo is the steepest inbounds run in North America) made me a little nervous to book a trip there last month during our school system's mid-winter break. Steep trails don't hold snow quite so well.
When we finally pulled the trigger and headed down just after President's Day, the vaunted North Face area had just opened for the first time this season, Rambo was still closed, and I generally love my Volkl Mantras and didn't want to totally destroy them for the remainder of the season. Turns out even my most pessimistic fears were unwarranted.
A few inches of new snow fell every night we were there, and the wind whipped up the fluff and deposited it in fresh stashes in places like Teocalli Bowl, where I consistently seemed to be one of the first to find them. Locals – even a lift op or two – warned us to avoid the North Face. But once we picked our way through the somewhat bony entrances, we found long lines of fresh, soft snow.
As a quick aside: It's amazing how spoiled we get as locals living in Colorado ski towns. Our standards are so much higher than tourists, and we even get disappointed when it's not a record 500-inch season like last season. Then I talk to someone like the tenants in my West Vail lock-off apartment who moved out here for the first time this season from Nantucket Island. They said that despite the low snow (by our standards), they had the best ski season of their lives and would come back in a flash. It's all a matter of perspective.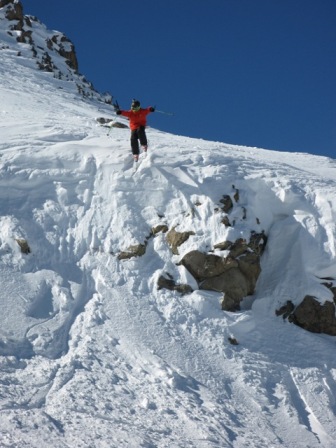 And my perspective is that even in a low snow year Crested Butte still skis great. We just don't have those sustained steeps at Vail, which is a huge and completely unique mountain with wide-open bowls not found anywhere else in the world. But if you like making jump turns on 45-degree pitches for a couple thousand vertical feet, you just can't beat the Butte.
And much like Beaver Creek, the general clientele at Crested Butte doesn't even head into the steeper stuff. They prefer the front-side groomers and love the mountain for its throwback charm and lack of Front Range crowds.
While in Crested Butte, I rode the chairlift with a couple of women from South Carolina who said they fly out to CB every season just because it's so far away from the nearest major metro area and because it reminds them of skiing in a bygone era before big consolidated corporate ski factories.
On the topic of perspective, I told them how much I enjoyed Charleston last time I was there in the mid-1990s. They then proceeded to gripe about how overrun and overpopulated that formerly charming southern city has now become. I'm sure I'd still enjoy a visit there these days and would hardly notice the difference.
I first skied Crested Butte back in the 1980s when I was going to school in nearby Gunnison. People tell me how much it's changed, how high real estate prices and overdevelopment have chased away some of its former charm. Most of the changes I've seen have been for the better, although I don't have to live there.
For instance, the old Victorian mining town of Crested Butte proper has some of the best ski-town restaurants found anywhere in Colorado. Our first night we hit the super-funky Secret Stash pizza place for the kids (adults like it too), then the next night we dragged then along to the Ginger Café, where they all feasted on noodles and grudgingly admitted it was a good call. I was in heaven with a ginger martini and a steaming plate of super-spicy Phad Thai. For lunch the next day, the Teocalli Tamale satisfied a craving for fast and delicious Mexican food and a beer.
Also not to be missed on the beverage front is the Cocktail Cabin (adults only) down in town and the quintessential ski-town bar up on the mountain, the Avalanche, where I downed two Avalanche Warnings and was viewed with awe the next morning by some Texans we met in the ski valet line.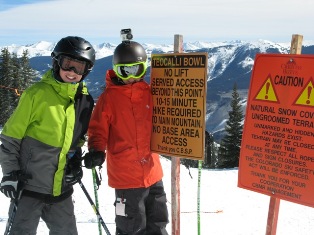 This weekend Crested Butte is hosting its annual FestEVOL
concert weekend
, featuring ski-town favorites Barenaked Ladies, Big Head Todd and the Monsters and Guster. All of these bands have played Vail in one form or another the last few years – including earlier this season when some of the band members converged as Yukon Kornelius – and I highly recommend them all. Plus, concertgoers won't face the I-70 crowds if they catch all the acts in Crested Butte.
FestEVOL also coincides with some killer late-season lodging
deals
at the Butte, including at the slope-side
Elevation
, where we stayed last season. This season we stayed at the Grand Lodge right next door – a property I can also recommend highly for its great location, big indoor-outdoor pool and roomy junior suites. Lastly, if you're looking to bring the kids along, check out the Butte's "Kids Stay and Ski Free"
deal
.
We've hit the Butte with friends and their kids from Summit County the last two seasons, and all of our kids always come back to Vail and Summit better skiers, more decisive on their skis and able to leap gnarly rocks and cliffs in a single bound (see photos). Even our youngest son (5) seems to step up his game after a couple of days in CB's low-stress ski school.
---

1613 Comments on "Even in a low-snow year, Crested Butte delivers the goods"