Vail opens part of Back Bowls
Skiing Vail's "Back Bowl" on Saturday was a little like the Denver Broncos playoff run: It was great that we finally got there, but the end result left a lot to be desired.
Still, the ski season will continue – a lot more snow is in the forecast for this week – but Tim Tebow and his overachieving teammates are done, victims of a vastly superior New England Patriots squad.
The "Back Bowl" will undoubtedly become the "Back Bowls" and only get better. Tebow and the Tebowians have been relegated to "wait-till-next-season" status. And even then, doubts will linger all off-season about Tebow's ability to ever beat an elite team like the Patriots.
After an historically slow start to the ski season, there's absolutely no doubt Vail's Back Bowls will be back with a powdery vengeance -- possibly as soon as next week and definitely by the end of the month.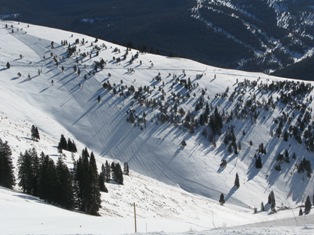 I used the singular designation "Back Bowl" because only one of them opened on Saturday (Sun Up), and even then, only portions. Eastern and western-facing aspects (like Yonder and Yonder Trees) are actually in decent shape. It's the dead south-facing aspects like Head Wall that are still quite thin.
That's to be expected after only 95 inches of snow has fallen so far this season (16 of it in the last week or so). Even with some of Sun Up opening, Vail still only has 21 of 31 lifts operating and 1,603 of 5,289 acres open.
But that's a testament to the skill and dedication of the snowmaking, grooming and ski patrol crews that have been spreading the snow we have had to great effect and opening and managing as much terrain as possible. And the north-facing front side of Vail is generally in fantastic shape.
Even my one run on Head Wall (yes, I made fresh tracks between the grass patches) was actually a total blast. Good to cut anything resembling a fresh track after the dry early season we've had so far.
I heard there was a bit of a land rush when patrol first dropped rope into Sun Up in the early afternoon (45 minute lift line on Chair 17). But by the time I got there around 2:30 there was no line and it was definitely worth laps in Yonder Trees (soft if someone set-up snow). Patrol wants that tracked out before this week's snowstorms.
Major kudos must be doled out to Vail for opening what they could of the Back Bowls on Saturday, and hopefully they'll be rewarded with lots of fresh snow this week.
Vail officials said on Facebook that Chair 17 would be opened on a limited and controlled basis to prepare for additional snow this week. They are not guaranteeing any Back Bowl skiing on a daily basis until more snow falls.
Opensnow.com is calling for four to nine inches Monday during the day and Monday night and then several more inches later in the week. Keep your fingers crossed, and definitely keep up the snow dancing.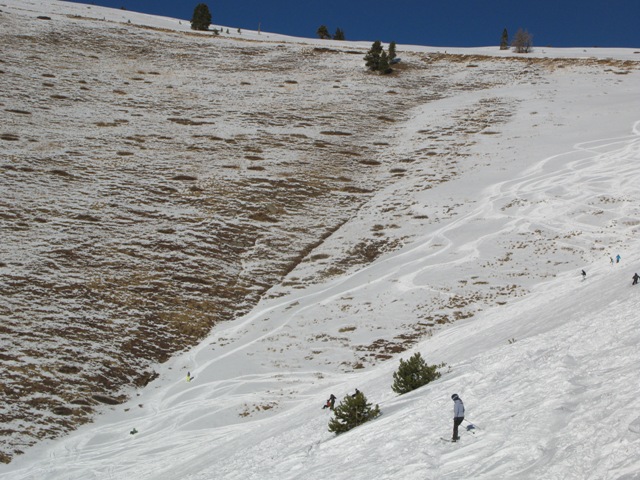 ---

744 Comments on "Vail opens part of Back Bowls"