Indian summer in all its glory, but snow guns ready to roar
Loveland Ski Area is just about a week away from officially firing up its snow guns for the 2011-12 ski season, and one may wonder why anyone living in or visiting Vail – a much larger ski mountain about 45 minutes to an hour west of Loveland on Interstate 70 – should care.
But Loveland's annual race with Arapahoe Basin is one of those industry sideshows that diehard snow riders latch onto and start salivating about right around Labor Day every year. A-Basin, "The Legend" about an hour east of Vail in Summit County, is part of the Vail Resorts Epic Pass. And both resorts offer the opportunity, starting in early October, to get your ski legs back under you after a summer of non-sliding activities.
The last several years either A-Basin or Loveland has been the first ski area in the state and one of the first in North America to open every ski season. In a Sept. 15 blog post, A-Basin COO Alan Henceroth wrote, "The aspens are really starting to turn. We might be making snow next week."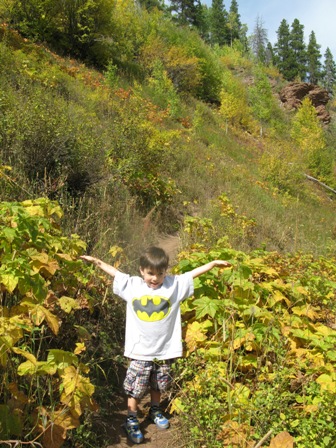 Well, things have been typically fall-like around here in Vail, meaning chilly evenings but bright sunshine during the day and temperatures in the 60s. Snowmaking crews need sustained overnight temperatures in the 20s in order to start really blowing the white stuff and storing it in shady tree groves, to be groomed onto the slopes by snowcats later on.
The forecast is calling for more sunny, dry weather for the next week or so, and that's actually perfect for finishing out the mountain biking and hiking season on a high note. This weekend – the last Sunday for the Vail Farmer's Market – will likely be pretty good for leaf gaping, although the fall foliage peak appears to be at least a week or so away.
The ski resort that really needs Mother Nature to fast-forward the calendar from fall to winter is Copper Mountain, where the new U.S. Ski Team Speed Center for early season downhill and super-G training is supposed to open Nov. 1. It's closed to the public, unless your name is Bode Miller or Lindsey Vonn, but the mountain itself is then going to open for public skiing Nov. 4.
Copper is great place for Vail skiers to get in some early on-snow action, transitioning legs from hiking/biking mode to the full-on snow sports pounding a long ski season inflicts. It's only about 20 minutes from Vail east on I-70, and East Vail is sometimes jokingly referred to as "West Copper."
Copper signed a long-term deal with the Ski Team to develop a 2,200-vertical-foot speed training slope from Nov. 1 to Dec 10 that will hopefully give American men an early edge in the annual Birds of Prey World Cup races at Beaver Creek (set for Dec. 2-4 this season). And part of Vail's Golden Peak will remain a dedicated (and nearby) Ski Team training facility for slalom and giant slalom racers.
Vail and Beaver Creek don't open to the public until Friday, Nov. 18, and Wednesday, Nov. 23, respectively.
Speaking of big-time athletes, one of the most amazing and least reported aspects of Olympic gold medal snowboarder Shaun White's deal with Vail Resorts to train at Northstar — and promote the company's six ski mountains in Colorado and California — is the fact that $5 from the sale of each Epic Pass season ski pass will go to White's favorite charity, the St. Jude Children's Research Hospital.
VR also announced that anyone buying one of its pass products by Sunday, Sept. 25 (including the unlimited seven-mountain Epic Pass) is entered into a drawing to win a lifetime Epic Pass. Right now, the price for unrestricted skiing at Vail, Beaver Creek, Breckenridge, Keystone, A-Basin, Northstar and Heavenly is $649 for adults and $329 for children, but prices will go up a bit at some point before the lifts actually crank up for the season.
Meanwhile, get out there and enjoy the trails surrounded by shimmering golds, oranges and reds. It's truly spectacular out there.
Editor's note: This blog first appeared on inspirato.com.
---

223 Comments on "Indian summer in all its glory, but snow guns ready to roar"