More summer snow, talk of La Niña repeat stokes anticipation for coming Colorado ski season
More snow up high in the northern and central Rockies of Colorado over the weekend left the upper peaks dusted and snow riders scrambling to lock in last-minute season pass deals before what could be a repeat of last season's record snowfall amounts.
Predictions of a repeat of a La Niña weather pattern, which provided favorable moisture flows for the northern-central mountains (and a record 524 inches of snow at Vail last season), could just as easily fizzle into an average or below-average season, forecasters warn.
"Central and northern Colorado usually see above average snow during a La Niña winter," writes meteorologist and weather blogger Joel Gratz of the Colorado Powder Forecast. "And this season, 2011-2012, could be another weak to moderate La Niña. Yeah, get excited. But of course, no guarantees."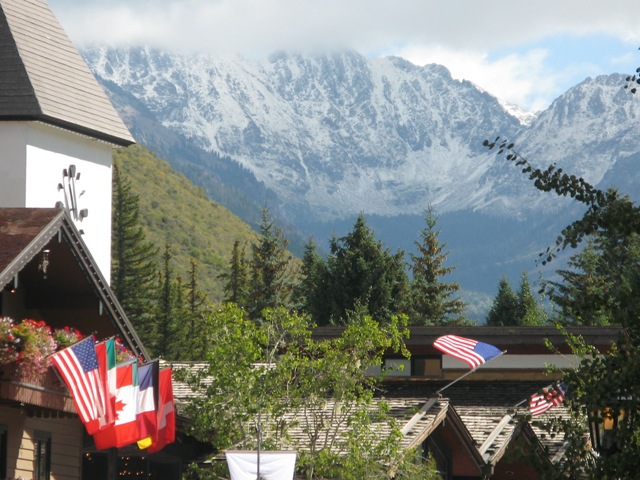 It's still officially summer, but so far inclement weather has been blowing through the Vail Valley every few days. This weekend's weather left a beautiful backdrop for Vail's annual Oktoberfest celebration (see photo) and a blustery day Sunday for beer drinking and chicken dancing.
Chilly nighttime temperatures dipping close to freezing at higher elevations mean snowmaking is right around the corner at Colorado's highest-elevation ski areas. Loveland and Arapahoe Basin will soon begin the annual race to be first to open, although neither is likely to be first in North America.
"In North America, Timberline in Oregon, which was open until the end of August as usual, plans to re-open in a few weeks after its annual maintenance closure," writes Patrick Thorne at Ski Info. "It should not be long either, weather conditions permitting, before some of the world's highest ski areas such as Loveland and Keystone in Colorado begin snowmaking. This can happen as early as late September with areas opening sometime in October."
Keystone in Summit County often is the first of the Vail Resorts mountains to come online, but it's really been a two-resort race the last few years, with Loveland and A-Basin dueling for the first-to-open honors. Of course, A-Basin is part of the Vail Resorts Epic Pass.
According to the Loveland website, snowmaking tests were under way all last week, and official operations are just 10 days away.
Vail and Beaver are both about two months away from their respective opening days on Friday, Nov. 18, and Wednesday, Nov. 23, but the state's largest ski company is still stoking the fires of anticipation.
Right now, Vail Resorts' Epic Pass, which offers unrestricted and unlimited skiing at A-Basin, Beaver Creek, Breckenridge, Keystone and Vail in Colorado, and Heavenly and Northstar in California, is selling for $649 for adults and $329 for children. And late last week the company announced a drawing in which anyone buying one of its pass products by Sept. 25 is entered into a drawing for a lifetime Epic Pass.
The company is being coy about when pass prices will go up, but typically each fall prices are raised as the lifts get closer to cranking up for the season. Kind of a "buy now, limited-time offer, operators are standing by" sales approach.
After last season's record snowfall, pent-up demand could lead to big early season sales … and not just in Colorado and around the United States.
Ski Info reports only "a small number of ski areas in the northern hemisphere are soldiering on to provide September snow sports in challenging conditions. Only six ski areas remain open in the northern hemisphere at present, in three countries – Austria, Switzerland and Italy.
"This is believed to be the lowest number of ski areas open north of the equator at any time of year, in any year, since summer skiing really got started in the 1970s."
---

287 Comments on "More summer snow, talk of La Niña repeat stokes anticipation for coming Colorado ski season"