Top snow riders on edge over relentless congressional push to roll back enviro regs
A trio of professional snow shredders are charging the biggest hill in Washington, D.C., this week.
Their message: Congress is getting too radical.
Extreme skier Chris Davenport, Olympic snowboarding silver medalist Gretchen Bleiler and big-mountain ripper Jeremy Jones will be on Capitol Hill tonight with U.S. Sens. Mark Udall and Michael Bennet and U.S. Rep. Jared Polis to discuss their firsthand accounts of climate change. Then on Thursday, the athletes will deliver a letter to Congress asking lawmakers to chill out on their assault against the Environmental Protection Agency and its ability to continue to regulate greenhouse gases.
"As representatives of 21 million skiers and snowboarders in the $66 billion snow sports industry, we are determined to protect our mountain economies, our sport, and the livelihood of hundreds of thousands of Americans from the effects of climate change. We must ensure that vibrant, prosperous winters endure for generations to come, and therefore support protecting one of America's greatest assets — a stable climate — and strongly oppose all Congressional efforts to undermine EPA's authority to set carbon pollution standards," the snow riders' letter states.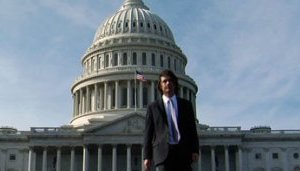 The trip is the second in as many years for Jones, who founded
Protect Our Winters
— a nonprofit organization dedicated to reversing the global warming crisis by uniting the winter sports community. Auden Schendler, vice president of sustainability for the Aspen Skiing Company, and Antonia Herzog, a climate and clean air specialist for the Natural Resources Defense Council, will be along for the ride.
More and more, winter sports athletes are speaking out about climate change and how they need the planet to stay cold and snowy enough to protect their livelihoods. Jones is said to have even forsaken helicopters and chairlifts when he goes snowboarding to demonstrate his commitment to the planet.
In June, the
U.S. Geological Survey released a study
that suggests snowpack declines in the Rocky Mountains over the last 30 years are unusual compared to the past few centuries. Warming is projected to worsen in the 21st Century, foreshadowing a battle royal over water supplies.
"With a few exceptions (the mid-14th and early 15th centuries), the snowpack reconstructions show that the northern Rocky Mountains experience large snowpacks when the southern Rockies experience meager ones, and vice versa. Since the 1980s, however, there were simultaneous declines along the entire length of the Rocky Mountains, and unusually severe declines in the north," the USGS eported.
Although this year's La Niña unleashed plenty of powder in the northern Rockies, and left the southern Rockies thirsty, the "gains are only a small blip on a century-long snowpack decline," the USGS said.
Researchers estimate that between 30-60 percent of snowpack declines in the late 20th century are likely due to greenhouse gas emissions. The rest is attributed to "natural decadal variability in the ocean and atmosphere, which is making springtime temperatures that much warmer," the USGS said.
When it comes to legislation designed to undermine the Environmental Protection Agency's authority over pollutants, there are quite a few bills that Davenport, Bleiler and Jones aren't too stoked about.
One of them is H.R. 910, which would amend the Clean Air Act to prohibit the Environmental Protection Agency "from promulgating any regulation concerning, taking action relating to, or taking into consideration the emission of a greenhouse gas to address climate change, and for other purposes."
The House passed the bill in April with support from Colorado's four Republican congressmen: Mike Coffman, Cory Gardner, Doug Lamborn and Scott Tipton. The state's other Reps. Diana DeGette, Ed Perlmutter and Polis, all Democrats, voted against H.R. 910. The bill heads to the Senate floor this fall.
---

357 Comments on "Top snow riders on edge over relentless congressional push to roll back enviro regs"