Actor Wendell Pierce trumpets activism in the Big Easy
Five years ago, Hurricane Katrina crashed into the Gulf coast, destroying so much life, history and infrastructure that it became the costliest natural disaster in U.S. history.
Along with a deeper appreciation of the culture and locales that stretch from central Florida to the Texas coast, determined men and women have emerged from the hurricane's dark, crude wake.
New Orleans native Wendell Pierce is one of them.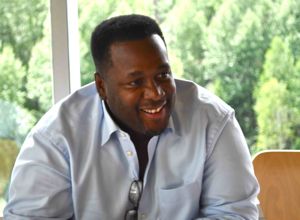 The actor, best known as Detective Bunk Moreland in David Simon's HBO series The Wire, became engaged in post-Katrina rebuilding efforts in 2008, focusing on the neighborhood he grew up in, Pontchartrain Park. He helped form Pontchartrain Park Community Development Corporation, which is a nonprofit dedicated to the neighborhood that sprung up in the 1950s, during the Jim Crow era of racial segregation in Louisiana. It is one of the first suburbs in the United States built specifically for middle‐ and upper‐income African Americans. Few of the original homeowners in Pontchartrain Park ever left, so the neighborhood has a high percentage of elderly residents. Because of their age, the neighborhood has been slow to recover from Katrina.
Real Aspen caught up with Pierce — who also starred in another Simon series on HBO, Treme, which portrays the lives of residents recovering from the hurricane — at Plato's restaurant last month with Friends of New Orleans and the Aspen Institute.
Real Aspen: Why did you decide to get involved in post-Katrina efforts?
Wendell Pierce: I grew up in Pontchartrain Park, a historic African American neighborhood in New Orleans that started in the post World War II era. It was a very stable neighborhood — with homes surrounded by a golf course, a ballpark, higher education, multi-dominational churches — so it was really a self-contained, self-sustaining neighborhood. After Katrina it had the second lowest rate of return (of residents). I was wondering why. I couldn't understand. Then I realized it was because our parents who created this neighborhood in the 1950s were now in their 70s and 80s so they didn't have the wherewithal to do it. I realized it was on me and my generation to step up to the plate and to actually reconstitute this great neighborhood. That's when I put out a call to action and got involved. And then I started realizing that Pontchartrain park was an incubator for great talent in every field of endeavor: politics, education, engineering, construction business art an di said we have it within our ranks to do it within our selves. So I put out a call to action and people answered it and we put together our own development corporation.
Real Aspen: Tell us about your corporation and the current state of affairs in New Orleans.
Wendell Pierce: New Orleans is coming back. The people have put together great programs to get it back on its feet. There's been a rejuvenation because the people are so resilient. Where we still have conflict is taking that resiliency, taking that energy and focusing it and programming it out where it can be replicated in programs of reconstruction and redevelopment. That's what we've done with Pontchartrain Park. We put together a platform where we can do something of scale — not just one, two, three, four, houses, but we hope to do 500 houses — to redevelop our neighborhood, and not only our neighborhood but the city. We're in the process of making sure the public and private sectors come together to make sure programs are put together to actually implement and take advantage of the resiliency and the energy that's a groundswell coming from the people in the neighborhoods.
Real Aspen: President Bush's administration was widely criticized for its post-Katrina efforts. How do you think the new administration is doing?
Wendell Pierce: The Obama administration has been great. It has cleared a lot of hurdles that people were concerned about, a lot of things that were in arbitration about whether or not FEMA dollars could be used for particular projects. We actually had a situation where there was money to be used for redevelopment but not for new home development in a disaster zone where homes had been destroyed. So that made no sense. They've been very good about taking out those hurdles. A lot of times people want to get into the discussion of where the government failed, and where other people failed, but in our opinion it's a waste of time, energy and effort to go into the pathology of what didn't work. We're bringing solutions to the table — solutions we know will work and can be implemented.
Real Aspen: Is the recent oil spill in the Gulf impacting Pontchartrain Park?
Wendell Pierce: It is affecting our neighborhood. There's a domino effect. The economy of south Louisiana is all connected. There are people who are in direct, ancillary and secondary economic positions that are affected by it. We're also affected by it in a very positive way too. Because what we anticipated is alternative fuel initiatives and all of our homes include geothermal energy and solar energy. So while we brought solutions to the table for Katrina, it can now be looked at as bringing solutions to the oil spill too. To ween ourselves off of fossil fuels, we're implementing not some prototype homes, not some ideas, but actual livable homes with solar and geothermal. We're going to be one of the greenest communities in the country if not the world. The other suggestion I have and other people have is we can be like Brazil. Our cash crop is sugar cane. All those sugar refineries could be sugar/ethanol refineries so we could take the burden off the sea and exposing risk to the waterways and coastal areas and actually utilize the very cash crop we have there, sugar cane, and let it still be a petroleum producing state. I hope this is a wakeup call that allows people to see those opportunities.
Real Aspen: What are your thoughts on Katrina's five-year anniversary?
Wendell Pierce: The anniversary is a time to reflect on the people we lost. Their loss would be in vain if we don't see this as an opportunity to always remind ourselves that we can improve the city and come to a different place. Five years out has been a marked place where you can see how far we've come. It's a testament to our resilience, it's a testament to the intellect that has pulled together to make sure that we progress in a positive way and reproduce and repopulate our neighborhoods in a smart and positive way. I'm glad to be a part of it. That's what I issued as a mission statement to our team: We don't want to just bring back homes and bring back people but we want to bring them back in a better place. We need 21st century ideas. There's no need for us in 2010 to not be realizing new energy opportunities. Geothermal, solar, alternative-fuel energy has been in existence a long time. It is something we should incorporate immediately, not over decades and years. Our homes were put up in these past couple of months and we went from a neighborhood that was created in the 1950s, on fossil fuel, and overnight became one of the greenest initiatives in the country so it's something we shouldn't wait on. If not now, when? If not us, who?
---

49 Comments on "Actor Wendell Pierce trumpets activism in the Big Easy"