USFS snow ranger says Chair 5 work right on schedule in Vail's Backs Bowls
Holy Cross Ranger District snow ranger Don Dressler says he was just in Vail's Sun Down Bowl Thursday and despite recent rains, work on a new high-speed lift to replace creaky old Chair 5 is proceeding right on schedule.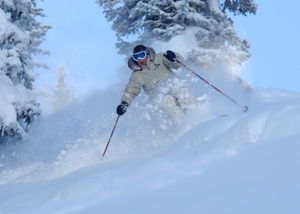 "All the foundation work is being completed for new towers and top and bottom terminals; those are 95-percent complete," Dressler told Real Vail. "And then they're scheduling a helicopter that will bring in towers and carriage assemblies … so that should happen in the next two weeks. They should be ready to open as scheduled."
In one of the most highly anticipated on-mountain upgrades in recent years, the old High Noon triple chairlift that for years has been a significant bottleneck – especially on powder days – will be replaced with a new high-speed quad lift for next ski season.
While there's been some handwringing by the chronically nostalgic and those who fear change, the demise of Chair 5 – which has been in the works for years – should significantly improve the flow of skier traffic on Vail Mountain, especially in the Back Bowls.
"It'll help that whole skier circulation, and one of the most interesting things to me is going to be to watch the end of the day egress from Blue Sky Basin and China Bowl – not having to rely on Northwoods (Chair 11) and really having some options," Dressler said.

---

0 Comments on "USFS snow ranger says Chair 5 work right on schedule in Vail's Backs Bowls"
Be the first to comment below.