Sportsmen look to make Colorado Roadless Rule as protective as 2001 Clinton rule
Groups blast Wilderness and Roadless Area Release Act for seeking to roll back both sets of regs
Sportsmen aren't necessarily opposing an anti-wilderness bill co-sponsored by three Colorado Republicans because they're enamored with the Colorado Roadless Rule, which would likely be derailed by the bill after six long years of negotiation. They just want the ability to keep trying to improve the Colorado rule.
On Thursday, a coalition of eight conservation and sportsmen's groups sent a letter to Colorado's congressional delegation and Gov. John Hickenlooper
urging them to reject
California Rep. Kevin McCarthy's
H.R. 1581
, entitled the Wilderness and Roadless Area Release Act.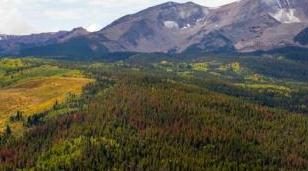 The bill would release huge swaths of federal lands across the country from roadless protection and consideration for wilderness status. It would essentially eliminate the 2001 Clinton roadless rule, which has been in legal limbo for a decade, and also undo the Colorado Roadless Rule – a state-specific set of regulations set in motion by former Colorado Gov. Bill Owens in 2005 but still not finalized.
"We want to ensure that Colorado's roadless areas are managed at a level that is as protective as the 2001 rule," said Nick Payne, Colorado field representative for the Theodore Roosevelt Conservation Partnership in Denver. "H.R.1581 would undermine that ability by effectively eliminating the 2001 rule and the potential for an improved Colorado rule."
Many sportsmen and conservation groups still oppose the latest draft of the Colorado rule, even though the state argues that in some ways it's more protective than the 2001 Clinton rule, which dictates how the federal government manages more than 4.2 million acres of federal land in Colorado. Opponents say the Colorado rule still allows too many road-building exemptions for logging, coal mining, oil and gas drilling and ski area expansion.
Mike King, director of the Colorado Department of Natural Resources, says times have changed in Colorado since 2001, with an ongoing mountain pine bark beetle epidemic making some temporary road building necessary in order to clear dead trees that pose a wildfire risk in and around communities.
The Colorado rule, he says, is also necessary in order to tailor a management plan that allows for some limited industrial exemptions for coal mining and the ski industry.
"Those are two examples of narrowly tailored exceptions that we can do on a state analysis that the national rule would never give you the ability to do," King said in a previous interview, adding both industries are critical to the economy of the entire state.
Republican Colorado Reps. Scott Tipton, Mike Coffman and Doug Lamborn are among 31 co-sponsors of H.R. 1581.

---

16 Comments on "Sportsmen look to make Colorado Roadless Rule as protective as 2001 Clinton rule"