New restaurant at Vail, chairlift at Beaver Creek as state's ski areas gear up for coming season
Colorado Ski Country USA
's member resorts announced a slew of on-mountain improvements for the rapidly approaching 2011-12 ski season on Monday, including new lifts and restaurant's at Aspen's quartet of ski areas.
Vail Resorts, which is not a member of the state industry lobbying group, has yet to officially announce its full menu of improvements for the coming season, but several significant upgrades at its Vail Valley ski areas have already been disclosed.
At Vail, a new sit-down fine-dining establishment called "The 10th" will greet snow riders right above the existing Mid Vail restaurants at the base of Look Ma run.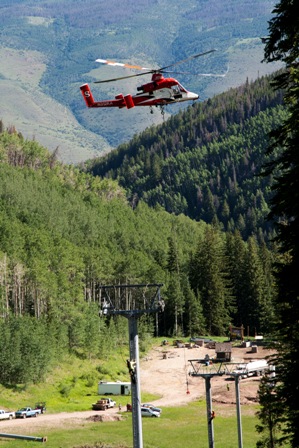 The restaurant will be a brand-new 160-seat, 13,000-square-foot facility with table service and a 40-seat bar and 40-person patio area. The name is a tribute to the 10th Mountain Division and World War II veteran Pete Seibert, who founded Vail in the late 1950s.
At Beaver Creek, the new Rose Bowl Lift (Chair 4), a high speed Doppelmayr detachable quad, will be up and running this coming season. It will transport 2,400 people per hour and the new ride time will be cut nearly in half to five and a half minutes. The side-load chair will transport snow riders to the top of today's existing Rose Bowl Lift.
It's hoped the lift upgrade reduce crowding on the Cinch Express Lift (Chair 8) and Centennial Express Lift (Chair 6). Beaver Creek is also increasing its grooming operations in Rose Bowl, including on some of its black diamond runs.
Aspen Skiing is investing $26 million in upgrades at its four resorts.
A new high-speed quad chairlift at Buttermilk is under construction to replace both the Eagle Hill and Upper Tiehack lifts. Built by Leitner Poma of America, the lift is expected to shave about 11 minutes off the current commute. Combined, the Eagle Hill and Upper Tiehack lifts took 18 minutes. The new Tiehack Express projected, expected to debut in December, will ferry riders almost 600 vertical feet up the mountain in just under seven minutes.
The lift is part of an effort to breath new life into Tiehack — the eastern and most-difficult section of Buttermilk, which is largely known as a beginner's mountain. In addition to the new $7 million quad, Aspen Skiing Company's summer trail crew is now cleaning up the gladed area on the Tiehack side of the mountain to add more rolling gladed and groomed single-black terrain into the underutilized area.
Over at Aspen Highlands, the Merry Go Round restaurant, situated mid-mountain, has begun a $6 million remodel, set to swing open its doors on the mountain's opening day, Dec. 10.
A new restaurant is also in the works at Snowmass for the 2012-2013 season. The Elk Camp Restaurant, now under construction for $15 million, is slated to replace Café Suzanne, located adjacent to the top of the Elk Camp Gondola. The new eatery will have seating for up to 300 guests and include summer and evening event space. Officials say the project is scheduled to be LEED-certified and will implement advanced heating systems with other green materials to beat local energy codes by an estimated 30 percent. Elk Camp would be the company's fifth LEED-certified building after the recent overhauls of Sam's Restaurant and the Holiday House.
In all, the Aspen Skiing Company is planning to invest more than $26 million in on-mountain improvements this year. Over the last eight seasons, the company has invested more than $164 million in on-mountain improvements, including 11 new lifts with two new gondolas, the new Snowmass base village, the Treehouse Kids' Adventure Center, an interior remodel of The Little Nell hotel, the launch of four new restaurants, the acquisition of the Limelight Lodge, the installation of a resort-wide art exhibit, and the opening of new ski terrain.
Highlights of other CSCUSA members
Copper Mountain is replacing the High Point Lift in West Village (formerly Union Creek) with a new lift that will provide improved service for all levels of skiing and riding ability. The Union Creek High Speed Quad, manufactured by Doppelmayr USA, will have a new alignment to help improve skier and rider circulation in and out of West Village. In conjunction with the new lift, the addition of a new trail connection from the east will make the circulation much easier from the Catalyst Terrain Park and the beginner and intermediate terrain in the area.
A new lift will reside at Loveland as that resort replaces Chair 4 with a new fixed grip triple from Leitner Poma, while Monarch's renovations for next season will also include a new lift. A 450 ft. long conveyor lift on Snowflake is being installed in time for the resort's opening.
For the upcoming season, Ski Cooper is installing a 770-foot Magic Carpet to replace the Printer Boy Platter. This sizable improvement will be at the base area of the mountain, in the ski school and beginner skier and rider area.
Meanwhile, terrain parks are getting a lot of attention as well.
SolVista Basin at Granby Ranch is adding a number of new features to its terrain park for the upcoming year, including an underground gas tank, a six-foot tall satellite dish and log jibs. Leading the improvements in SolVista's terrain parks is Ted's Secret Stash, an all natural log park off the Jackalope run; and Progression Park, a beginner terrain park at the base area; and the newest feature The Tank, a former underground fuel tank that is eight feet in diameter, 30 feet long, and boasts a quarter-pipe on each end.
Another resort with new terrain park features is Echo Mountain. Echo has continued to improve its trails and park features for the 2011/12 season and is making its trails larger and the park more challenging.
Rounding off terrain park improvements, Winter Park's Rail Yard Terrain Park's Super Pipe "Dig-In" will be completed during the early season, which will result in the Half Pipe being opened by Christmas and will see a reduction of water and energy by using less manmade snow. The progressive terrain park system will also see another boost of new features this coming season.
Other on-mountain amenities through ski country are also getting a boost.
At Crested Butte, renovations to the Paradise Warming House, the mid-mountain cafeteria style culinary facility, are underway. The resort is redesigning the food line, creating new signage and giving the facility an overall updated look that will further enhance the guest experience.
In Steamboat, the resort is creating a new bar, located in the Cabin Restaurant at the Steamboat Grand. The newest après ski hot spot just across from the Gondola Square base area, it has a unique menu featuring Kennebec Chips with Sriracha Aioli, the Deconstructed BLT (pork belly, tomato jam and arugula, charred on a cedar plank), and Buffalo Carpaccio.
Copper Mountain will enter 2011-12 in partnership with the U.S. Ski and Snowboard Association (U.S.S.A.) to develop an on-snow training center at the resort. To support and develop the U.S. Ski Team Speed Center at Copper, the resort is implementing a new automated snowmaking system, as well as safety, communications and timing equipment necessary to develop a unique training venue. The on-snow training center will operate from November 1 – December 10 each winter season, and will bolster the U.S. Teams' ability to train for speed events before the competitive season begins.
On-mountain improvements continue at Crested Butte as the resort is enhancing its kids' trails. These are trails that ski instructors bring their students through that add excitement to the lesson, whether it's winding through trees, over humps and other terrain, or going around obstacles. The trails have become extremely popular with younger guests and also correlate to Crested Butte's Kids Trail Map.
Winter Park is also enhancing its beginner trails. Beginners will now have an easier trail to the Village at Winter Park with the opening of the new Sorensen Trail Bypass.
Snowmaking upgrades abound throughout CSCUSA's member resorts.
Loveland is adding snowmaking capabilities to Twist at Loveland Valley and Firecut at Loveland Basin, which will expand the resort's early and late season race training opportunities.
Eldora Mountain Resort has invested heavily in upgrading its snowmaking system ,which will enrich the on- snow experience in the upcoming season.
Purgatory at Durango Mountain Resort is upgrading its expert terrain via a winch-cat that will provide high-angle grooming. Some expert trails will be groomed or partially groomed using this technique, which will provide a great experience for expert skill level skiers and riders.
Wolf Creek's grooming fleet of snowcats has a new addition this season, bringing one of the first Finnish snowcats to the US, the Formatic. This heavy equipment is used to smooth terrain and help pack down the powder during storm cycles.
Continuing to improve the versatility to its slopes, Steamboat Resort will be upgraded its snowmaking, while also adding a new snowcat to its slope grooming fleet.
Winter Park is also adding a new snowcat for superior groomed runs. Other capital at the resort has been re-invested into improving existing infrastructure and services.
---

251 Comments on "New restaurant at Vail, chairlift at Beaver Creek as state's ski areas gear up for coming season"