Colorado owns Olympic edge for 2022, but economic, enviro issues abound
Former Vail native says South Korean skiing sub-par; other critics question Sochi
With the rush of successfully hosting a major cycling event still fresh in the state's collective consciousness, Colorado officials are starting to once again dream of Olympic glory.

Gov. John Hickenlooper and Denver Mayor Michael Hancock over the weekend were quoted seriously contemplating Denver making a 2022 Winter Olympic bid. The question remains whether Colorado taxpayers have the stomach for such a venture in the current economy.
"We know what we are capable of doing in Denver; the question is now — do we test it on the Olympics?" Hancock said, according to the Denver Post. "We are ready to take our rightful place on the global stage. Certainly nothing would help us do that greater than the Olympics in 2022."
That path to the Games in Colorado became a little more clear a week ago when the United States Olympic Committee (USOC) opted not to bid for the 2020 Summer Games, citing an ongoing revenue-sharing dispute with the International Olympic Committee (IOC). A 2020 Summer Olympic bid would likely have scrubbed a 2022 Winter Games bid on U.S. soil.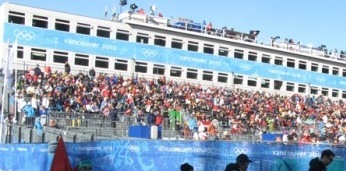 Colorado sports officials had wanted to bid for the 2018 Winter Olympics, but the USOC decided to put all its eggs in the 2016 Summer Games basket for Chicago, which in 2009 wound up a distant fourth to ultimate winner Rio de Janiero, Brazil. Jilted by the IOC, the USOC then watched the 2018 Winter Games go to PyeongChang, South Korea, earlier this year.
"It could prove to be a powerful incentive to find a solution to solve the challenge of getting up to the mountains on I-70 during the weekends," Hickenlooper said of a potential 2022 bid. "If we are going to make a bid, we ought to make sure we have something to show for the investment."
The last time the United States hosted an Olympic Games – summer or winter – was in Salt Lake City, Utah, in 2002. The price tag for putting on those Games was $2 billion. Denver is the only city to ever be awarded the Games and then reject them, with voters turning down the 1976 Winter Olympics because of concerns about public expense and the environment.
Former Gov. Dick Lamm, a state legislator at the time, led the charge to turn back the Games, and he rode that anti-Olympic campaign into the governor's mansion. Now co-director of the Institute for Public Policy Studies at the University of Denver, Lamm adamantly defends turning down the Olympics nearly 40 years ago and is still a voice of opposition.
"I come down on believing strongly that the voters did the right thing," Lamm previously told the Colorado Independent. "The history of the Winter Olympics was a history of red ink, and I believe it would have left Colorado with a very large expense and a worse environment."
However, rampant growth in the ski towns has occurred anyway, and many say the only way to get the federal funding to now fix the ensuing I-70 gridlock between Denver and the mountains is to host the Winter Olympics and possibly invest in high-speed rail (the estimated price tag between Denver International Airport and Eagle County is $12 billion).
Sochi, Russia, will eventually spend a reported $33 billion on the 2014 Winter Olympics – a huge markup from the $6 billion spent in Vancouver, British Columbia, in 2010. Much of Sochi's investment will be pumped into high-speed rail between the coastal city and the mountain resort of Rosa Khutor. Canada, meanwhile, came away with impressive improvements to the Sea-to-Sky Highway to Whistler, but no mountain rail system.
It remains to be seen how much PyeongChang, South Korea, will spend on the 2018 Winter Olympics, but some observers say much of that country's investment will have to be plowed into its severely lacking ski resort infrastructure.
"I've never skied out East [in the U.S.], but [Korea is] a lot like I imagine eastern ski resorts to be like. Icy groomers with a shit-load of people on them," said John Buckley, a Vail, Colo., native now teaching English in Daegu, South Korea. "There is not a lot of base area infrastructure. From a skier perspective, I don't think people should really get their hopes up for a fun ski, après scene."
The IOC is trying to expand winter sports into vast Asian markets, but critics claim the Olympics may be forcing the issue a bit with yet another low-elevation or coastal selection, where weather is often an issue and snow is not always reliable.
"Yes, semi-snowless could be an adjective to describe the countryside of PyeongChang county," writes freelance writer James Card in the Asia Times. "Most sorely lacking is snow, and snow is needed to make a mountain town that people want to visit. South Korean winters are dry and precipitation is scarce. Snow comes in spurts and there are a few good dumpings a year and then the white stuff quickly melts off."
Sochi, Russia, a beach resort town on the Black Sea, has some of the same issues that marred competition in Vancouver (where rain poured down on the Cypress Mountain freestyle events and snow had to be brought in by helicopter) and Whistler, where wet coastal storms made the alpine skiing events the most postponed in Olympic history.
"Lack of snow is only one of the surprises that may greet visitors in 2014," writes blogger Jim Gilbert, who visited the Sochi area on business earlier this year. "Another is massive environmental destruction. To change a sleepy, one chair lift, ski area into an Olympic venue is requiring huge construction projects in a once-pristine mountain meadow."
In that sense, Colorado would have an advantage over most other bidders for 2022, given that it's much higher, has a very well-developed resort infrastructure and boasts a more reliable continental snowpack than Vancouver, Sochi, PyeongChang and most other potential locations.

Follow David O. Williams on Twitter.
---

38 Comments on "Colorado owns Olympic edge for 2022, but economic, enviro issues abound"