Delta cuts Minneapolis, Cincinnati and Detroit flights to Eagle County Regional Airport this winter
Overall inbound seat capacity projected to drop 10 percent
Delta Air Lines is ramping down service to Eagle County Regional Airport this winter, cutting loose its long-time daily non-stop Minneapolis flight, along with Saturday non-stops to Detroit and Cincinnati.
Chris Anderson, the airport's terminal manager, confirmed the flight discontinuations Wednesday. Overall, he said, the airport's winter inbound seat capacity is projected to be down 10 percent from last winter.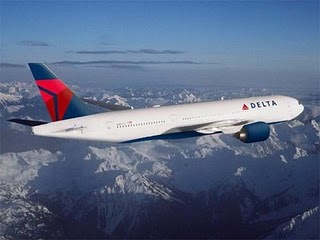 "We're disappointed we lost Minneapolis, Detroit and Cincinnati, but we're happy to come back with a really strong schedule this winter," Anderson told Real Vail. "We look forward to continuing to grow our flight program as we have in the past."
Delta Air Lines, whose public relations team could not be reached for comment, is not pulling out of Eagle County Regional Airport altogether. It will continue its daily non-stop Atlanta trip this winter.
The airport, located in Gypsum and about 30 miles west of Vail, is a gateway to Colorado ski areas.
Gabe Shalley, manager of airline programs at Vail Resorts, said she was forbidden from answering questions from the press. E-mailed questions sent to a Vail Resorts spokeswoman went unanswered.
Vail's bad news comes just as one of its rival resorts, Aspen, welcomed good news for travelers.
Frontier Airlines, which late last month announced it would be pulling out of Aspen this winter, reversed course and confirmed to Real Aspen on Tuesday that it will continue to serve the Aspen/Pitkin County Airport.
Under its new parent company Republic Holdings Airways Inc., Frontier had planned to phase out the one plane, the Q400, that it has to fly into Aspen's mountainous terrain, but at the eleventh hour elected to keep three of them. At one point, Frontier Airlines had nearly a dozen Q400s in operation.
Instead of pulling out Oct 1 as originally planned, Frontier will continue its Aspen-Denver service with one trip daily from Oct. 1 through Nov. 17, then two trips a day from Nov. 18 through Dec. 15, before the airline will ramp up to four daily departures from Dec. 16 through the length of the ski season.
Bill Tomcich, president of Stay Aspen Snowmass Inc., a central reservations company, called Frontier's decision to remain in Aspen, coupled with a fourth United Airlines non-stop flight into Aspen from Chicago and a second United non-stop flight from San Francisco, "a windfall" for the Roaring Fork Valley's tourism economy.
"We got through this delicate winter ahead," Tomcich told Real Aspen on Wednesday. "There were some anxious moments wondering how we were going to handle losing Frontier and Delta."
Delta Air Lines didn't just reduce flights to Eagle County this winter. It also nixed its Atlanta and Salt Lake City flights to Aspen, which, if Frontier had left, would have left Aspen with only one airline.
Tomcich discovered that Eagle County Regional Airport was losing seats this winter weeks ago after analyzing other markets more closely in the wake of the diminished air service Aspen anticipated.
The prevailing thought was that if both Frontier and Delta left Aspen, it would create more demand on the constricted winter schedule Eagle County Regional Airport is facing, forcing prices up for everyone. A sizable chunk of travelers to and from the Roaring Fork Valley rely on the Eagle airport.
"My tact on airline pricing is always a simple function of supply and demand," said Tomcich, who used to work for Vail Resorts in the 1990s, noting that the Eagle-Minneapolis flight was around then, too.
With Frontier staying and United Airlines increasing its service, Aspen should now be on par with last winter, Tomcich said. Last winter was the Aspen airport's strongest in terms of seat capacity and enplanements in over a dozen years.
But following Tomcich's logic, Eagle County Regional Airport could be in for a slight tick up in prices this winter with 10 percent lower seat capacity if the demand is equal to or stronger than last winter.
Anderson said he didn't anticipate the announcement of any new flights or frequencies. The airport will still see plenty of action. The winter schedule currently includes 21 arriving flights from New York, Newark, Miami, Los Angeles, Houston, Denver, Dallas, Chicago and Atlanta.
Kent Myers, an aviation consultant and director of EGE Air Alliance, a nonprofit that was established to increase air service to Eagle County, said it's getting late for resorts to add any more flights to the winter schedule.
"If you're going to start flying in December, you need to have things loaded by the fifteenth of September," Myers said, "and that's sort of a worst-case scenario."
---

319 Comments on "Delta cuts Minneapolis, Cincinnati and Detroit flights to Eagle County Regional Airport this winter"