U.S. Ski Team top rookie Heidi Kloser of Vail spends summer training in Park City, Lake Placid
PARK CITY, Utah – Vail's Heidi Kloser, the U.S. Ski Team's 2010 Rookie of the Year, has been busy this summer, splitting her time between Lake Placid, N.Y. and Park City, Utah. Kloser has dedicated her summer to flying high at the Lake Placid and Utah Olympic Park water ramps.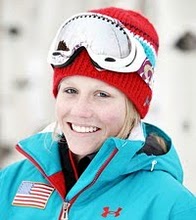 Kloser was named to the U.S. Moguls Team in December 2009 after qualifying at the 2010 selection events. Kloser kept the momentum going, earning four World Cup starts in the 2009-10 season. She made her mark on the circuit, qualifying for the finals in three out of the four World Cup starts. Kloser's impressive first season paid off when she was recognized as the 2010 Rookie of the Year recipient in March at the World Cup in Sierra Nevada, Spain.
"I found out that I had won the award when I was lying in bed. I just had the stomach flu for a day," said Kloser. "That was pretty exciting and not expected at all. It made me feel like I can do really well in the World Cups and working hard will pay off."
Kloser made a three-week move to Lake Placid to train with Wes Preston, a member of the notable moguls and aerials Preston family. Preston also worked with Kloser's teammate, Olympic gold medalist Hannah Kearney (Norwich, VT). While on the east coast, she focused on perfecting her take-off and dialing in on tricks such as back lay outs and back fulls.
"She has a bright future and has worked really hard to get to this point," said Head Coach Scott Rawles. "She went out to Lake Placid and worked with Wes Preston, who helps Hannah [Kearney] when she's jumping there. She trained with him in between camps in Park City, so she's had a really busy summer."
"At Lake Placid there weren't as many average skiers that come to just jump for the day or two, and the workout facilities are a little bit different," said Kloser. "The Utah Olympic Park has a lot more water ramps and Lake Placid's ramps were nice because there weren't many people there."
While in Park City, Kloser took full advantage of the Utah Olympic Park, spending a lot of time jumping with teammates. She has also been packing on the miles at the Center of Excellence's trampolines, as well as utilizing the state-of-the-art weights and gym equipment.
Although her summer has been jam-packed, Kloser still found time to squeeze in a family vacation in between her trips to Lake Placid and Park City.
"I went to Lake Powell this summer for a couple days with my family," said Kloser. We swam and kayaked."
Kloser joined the team down under in Australia for an on-snow camp at Perisher in August.
---

28 Comments on "U.S. Ski Team top rookie Heidi Kloser of Vail spends summer training in Park City, Lake Placid"