Former public lands officials encourage Salazar, Obama administration to hold line on drilling reforms
Federal judge in Wyoming deals blow to Interior Department on 'categorical exclusions' issue
Former top federal public lands officials are urging the Obama administration to stay the course on onshore oil and gas leasing reforms despite a major setback from a U.S. district judge in Wyoming earlier this month.
Judge Nancy Freudenthal ruled in favor of the Denver-based
Western Energy Alliance
, finding that oil and gas companies had proven "recognizable injury" when the Interior Department last year rolled back so-called "categorical exclusions" that allowed expedited environmental review of oil and gas leases on public lands.
Instituted under the Energy Policy Act during the Bush administration in 2005, categorical exclusions allowed the U.S Bureau of Land Management (BLM) and the U.S. Forest Service (USFS) to speed up or entirely skip environmental review of oil and gas leases on federal lands under certain circumstances. The Government Accountability Office (GAO) in 2009 found the practice violated certain provisions of the National Environmental Policy Act (NEPA).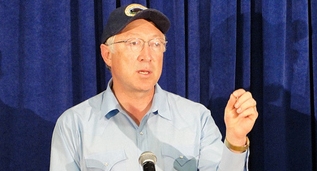 Mike Dombeck, head of the Forest Service from 1997 to 2001, joined several other top Forest Service and BLM officials in sending a letter late last week to the Obama administration pointing out that the judge "did not rule on the merits of the reform of these short cuts, only the process – and certainly did not suggest a return to the 'leap before you look' process of leasing land for oil and gas [drilling]."
"The court's decision did not suggest a return to those short cuts and we encourage the administration must continue to move forward with responding to the problems outlined by the Government Accountability Office on categorical exclusions, as well as its other needed reforms," Dombeck said.
Interior Secretary Ken Salazar first announced new oil and gas leasing rules early last year and then adopted them in May of last year after environmental groups sued over the use of categorical exclusions. Western Energy Alliance then sued over the reforms last fall, arguing oil and gas companies had been financially injured by the slowdown in leasing.
"Western Energy has demonstrated through its members recognizable injury; those injuries are supported by the administrative record," Freudenthal said in her ruling, according to the Associated Press.
"She completely discounted the government's argument that the harm was speculative," Kathleen Sgamma of Western Energy Alliance told the AP.
But the Obama administration continues to insist the oil and gas industry will benefit from more certainty under the reformed rules, producing a BLM report showing only 8 percent of all proposed leases were formally protested by environmental groups so far this year compared to 36 percent over the last six years.
"Secretary Salazar's efforts have reflected an important balance for America's public lands," said Mat Milenbach, deputy director of the BLM from 1995 to 1998. "We are asking the administration to continue to support and defend implementation of these important land-use reforms, which provide the right path forward to developing our oil and gas resources wisely and efficiently."
Salazar's onshore drilling reforms are also facing considerable legislative pressure, including from U.S. Rep. Mike Coffman, R-Colo., who has a bill in the House seeking to streamline the process. Former federal officials overseeing public land policy have consistently backed Salazar's efforts to better protect air and water quality and provide more certainty by reducing the amount of federal resources spent fighting challenges from environmental groups.
"As former head of both the Forest Service and BLM, I understand the pressure and conflicts that come with multiple use land management," said Dombeck, who also served as director of the BLM from 1994 to 1997. "Secretary Salazar's reforms went a long way in restoring balance to our public lands and eliminating short cuts for development that degrades the productivity of our land and air and water quality."

---

391 Comments on "Former public lands officials encourage Salazar, Obama administration to hold line on drilling reforms"