Aspen area bear attacks escalate with two men bitten while camping near Maroon Bells in two days
For the second time in as many days, a bear tore through a tent near Crater Lake and bit a man.
The more serious of the two incidents occurred in the wee hours Saturday morning, when a bear bit a 51-year-old climber's leg through his sleeping bag repeatedly. The man managed to fight the animal off and call the other members of his group for help, according to Pitkin County sheriff's deputy Levi Borst.
"The bear lingered around the campsite after the attack, despite many efforts to scare it away," Borst said.
The two other climbers in the group controlled the bleeding with first aid supplies they had with them. They also activated an emergency transmission from a GPS transmitter before fleeing their campsite at Minnehaha Gulch.
The injured climber hails from the Front Range but his name was not released.
Upon receiving the GPS alert, the Pitkin County Sheriff's Office immediately contacted Mountain Rescue Aspen who sent rescuers into the field where they met up with the injured climber along the trail. The man was able to hike out under his own power, authorities said, and was taken to Aspen Valley Hospital where he is awaiting surgery.
The three climbers had planned to summit North Maroon Peak later that morning.
Colorado Parks and Wildlife and U.S. Forest Service personnel are investigating the early morning tent invasion.
The less serious incident occurred at 5:30 a.m. Friday, when a bear pounced on a tent containing two men camping at Crater Lake, Colorado Parks and Wildlife spokesman Mike Porras said. The bear bit one of the men but he was not seriously hurt.
Bear attacks are becoming more common in the Aspen area.
Two years ago, a black bear broke into a home through locked French doors and clawed a woman; another scratched a woman sleeping on her deck; and a large bear broke into a man's home and swatted him in the head.
Last month, a black bear attacked a teenage camper on the other side of Independence Pass in Twin Lakes. In that case, a 13-year-old boy from Aurora was with his family at the Colorado Bowhunters Association annual jamboree when a bear tore through his tent and bit him in the leg. He later said he felt "extremely lucky" to be alive.
Wildlife officers later tracked that bear down and killed it.
A bear also recently entered and damaged two tents in Difficult Campground just outside of Aspen recently, prompting Colorado Parks and Wildlife and the U. S. Forest Service to restrict the site to hard-sided camping only.
Officials are warning campers in Colorado to be on high alert.
Wildlife officers are working with tracking dogs to find the bear or bears involved in the Crater Lake area attacks.
It is unclear if the same animal was involved in both attacks. If located, the bear or bears will be put down.
"These situations indicate that the bear is associating tents with food and has become dangerous to even campers that are doing things correctly," state wildlife manager Perry Will said. "We've got lots of good camping weather left this summer and it continues to be important for everyone to do their part to keep wild bears wild."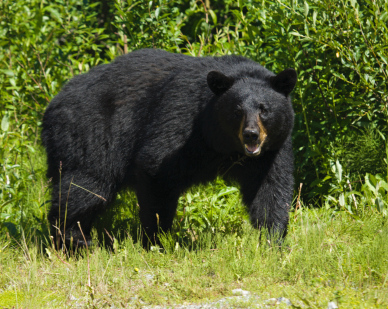 ---

591 Comments on "Aspen area bear attacks escalate with two men bitten while camping near Maroon Bells in two days"