Ski Club Vail's Gregorak fifth in New Zealand giant slalom as Americans sweep podium
Big guns Ligety, Miller second and third
American men found their speed early in the season as Warner Nickerson (Gilford, NH) led Olympic gold medalists Ted Ligety (Park City, UT) and Bode Miller (Franconia, NH) to a giant slalom podium sweep Monday at Coronet Peak.

Up-and-comers Will Gregorak (Longmont, CO), a Ski and Snowboard Club Vail product, and Colby Granstrom (Lake Stevens, WA), the reigning Junior World Champion in combined, also landed in the top 10 with fifth and seventh respectively. Vancouver Olympian Megan McJames (Park City, UT) posted the top U.S. women's result with fifth, followed closely by Julia Ford (Plymouth, NH) in seventh.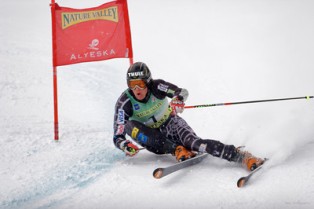 The races kick off the second stop of the 2011 Australian New Zealand Cup series and fall near the end of the U.S. Ski Team's annual summer on-snow camps in the Southern Hemisphere.
"The general energy of the entire group at this camp has just been awesome," said men's Head Coach Sasha Rearick. "Bode, Ted and all the guys have been giving incredible effort and just training like mad. It's a really positive scene."
Both Rearick and women's Head Coach Alex Hoedlmoser gave credit to the Canadian Ski Team for injecting a few trails with water prior to the Team's arrival allowing both programs to hit the ground running. The U.S. program then added a few more injected slopes providing the Team with incredible winter conditions for training.
"The men's and women's teams each brought an injection bar and we had a couple extra lanes already set thanks to the Canadians," said Hoedlmoser. "So far the conditions have been great. We've been able to train with the guys a lot, and the girls are getting in the laps. It's exactly what they need at this time of the year."
Hoedlmoser and Rearick also noted excellent results on equipment testing with Hoedlmoser pointing out incredible feel from three-time Olympic medalist Julia Mancuso (Olympic Valley, CA) on her new equipment from Voekl.
"Julia has had some solid results with her giant slalom and super G skis and we'll get things worked out with slalom. Lindsey [Vonn, Vail, CO] is also figuring some things out, particularly with her GS and slalom skis. We're getting great feedback from the girls all the way around, both positive and negative, but it's all working towards making sure they're on the fastest, most comfortable equipment by the time we start racing."
McJames, and teammate Chelsea Marshall (Pittsfield, VT) are also working out equipment switches with McJames moving to Fischer and Marshall now working with Head. Additionally Hailey Duke (Boise, ID) made the move to Fischer boots, but still races on Voekl skis.
On the men's side, Ligety took the first race runs of his career with Head racing and reported positive results with his second place finish, while Marco Sullivan (Squaw Valley, CA) is getting in laps on his new set-up from Rossignol and Lange.
"Marco is looking great," said Rearick. "He's showing some good ankle flexion and feeling positive about his new gear. Ted hasn't lost any ground and is just flat out charging. He definitely has some things to figure out, but it's all moving along nicely."
A pair of slalom races are set for Tuesday at Coronet Peak with the women's camp wrapping up the following day. The U.S. men will remain in New Zealand another week.
Australia New Zealand Cup
Coronet Peak, New Zealand
August 16, 2010
Men's giant slalom
1. Warner Nickerson, Gilford, NH, 1:38.77
2. Ted Ligety, Park City, UT, 1:38.79
3. Bode Miller, Franconia, NH, 1:39.13
4. Felix Neureuther, Germany, 1:39.21
5. Will Gregorak, Longmont, CO, 1:39.91
-
Women's giant slalom
1. Marie Prefontaine, Canada, 1:44.47
2. Marie Gagnon, Canada, 1:45.17
3. Chloe Fuasa, Norway, 1:45.86
4. Susanne Riesch, Germany, 1:45.67
5. Megan McJames, Park City, UT, 1:47.74
For complete results:http://www.fis-ski.com.
---

34 Comments on "Ski Club Vail's Gregorak fifth in New Zealand giant slalom as Americans sweep podium"