Controversial water issues bubble to surface in Colorado as activists rally for conservation
Focus on uranium mining near Dolores, San Miguel, EPA Clean Water Act, Flaming Gorge Pipeline
Water activists around the region – from Southwest Colorado to Southwest Wyoming to downtown Denver – continued to apply pressure on regulators this week on a variety of critical issues such as opposing the proposed Flaming Gorge Pipeline, backing the Clean Water Act and forcing more scrutiny of uranium mining near the Dolores and San Miguel Rivers.
The Department of Energy (DOE), reacting to a lawsuit brought by environmental groups, has agreed to conduct a full-on, in-depth environmental impact statement (EIS) on its uranium-leasing program on approximately 42 square miles of public lands near the remote and scenic
Dolores
and San Miguel Rivers in Southwest Colorado.
The groups contend the DOE ignored the National Environmental Policy Act and Endangered Species Act when it awarded or renewed 31 leases for mining-related activities on 25,000 acres of federal lands near the rivers popular for rafting, kayaking and fishing. The groups wanted those leases tossed out, but the feds wouldn't go that far. The lawsuit is still pending.
"The Department of Energy knows its previous environmental reviews fell short and yet leasing for uranium operations has moved forward," said Taylor McKinnon of the
Center for Biological Diversity
. "That badly flawed approach jeopardizes human health, wildlife and two of the West's most precious rivers. The feds' refusal to revoke approvals and leases they've admitted are flawed is inherently dishonest and will keep everyone in court."
Meanwhile, another coalition of environmental groups conducted a "
telephone town hall
" Wednesday for Coloradans concerned about the proposed Flaming Gorge Pipeline that would transport at least 250,000 acre feet (81 billion gallons) of water a year from the Green River and Flaming Gorge Reservoir in southwestern Wyoming over the Continental Divide to the Front Range of Colorado.
The Army Corps of Engineers earlier this month scrapped its environmental review of the private project because the developer missed several permitting deadlines. The Colorado Water Conservation Board is being asked to pay $150,000 to study the feasibility of the $9 billion project.
"Creating the Flaming Gorge pipeline would cost billions of dollars we don't have; it would deliver water at a price that nobody can afford, and it would land a devastating blow to our environment,"
Colorado Environmental Coalition
Executive Director Elise Jones said in a release. "Now, the proponents of this project want the state to spend $150,000 of taxpayer dollars on an unnecessary process to push the project forward. Enough is enough."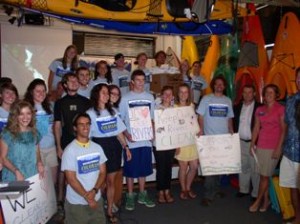 Critics say the project would have severe environmental impacts on Flaming Gorge Reservoir and the Green River below the reservoir. The Green is considered some of the best boating and fishing in the state and ultimately flows into the Colorado River, which conservation groups and federal regulators have warned is
under increasing pressure
from numerous user groups and diminished flows due to global climate change.
"Coloradans need to know about this boondoggle," said Bill Dvorak of Dvorak Kayak and Rafting. "People in this state recognize the need for balanced water supply policies that preserve what's best about Colorado – this pipeline does not meet that standard."
In another show of force on the water front Tuesday, conservation groups, kayakers and anglers
rallied
at Confluence Kayaks along the Platte River in downtown Denver and hand delivered 23,887 public comments to EPA Regional Administrator Jim Martin. The comments were in favor of an EPA rulemaking designed to clarify which bodies of water qualify for protection under the Clean Water Act.
While the rulemaking has met with considerable resistance – including from Republican members of Colorado's congressional delegation – EPA officials say it's necessary in the wake of U.S. Supreme Court decisions that have muddied the waters on which streams, creeks, ponds, lakes, rivers and wetlands are actually protected under the Clean Water Act.
"This summer we've heard from tens of thousands of Coloradans," said Pam Kiely, program director of Environment Colorado, "and the consensus is clear — people support strong EPA action to fully protect the creeks and rivers they're rafting, kayaking, swimming, and fishing in all summer long."
The proposed guidance is posted on the
EPA website
.
"EPA has laid out a comprehensive plan to maintain and improve the health of our nation's waters," said EPA's Martin, former head of Colorado's Department of .Natural Resources. "A fundamental part of that plan is reaffirming the clear application of the Clean Water Act. The guidance we are proposing will help protect the streams and wetlands that keep Colorado's watersheds, and the state's multi-billion dollar recreational economy, healthy."
---

15 Comments on "Controversial water issues bubble to surface in Colorado as activists rally for conservation"