Human-bear conflicts on the rise in Colorado
A black bear that attacked a teenage camper in Twin Lakes earlier this month is among just a few that the Colorado Division of Wildlife has had to put down so far this summer — a far cry from the last couple of years.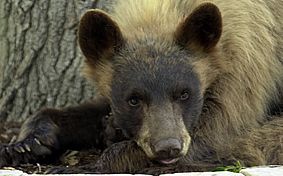 In 2010, wildlife officers killed 80 bears mostly due to hot, dry conditions that forced scores of the animals into urbanized areas in southeastern Colorado. In 2009, officials put down 89 bears when localized forage crop failures, namely a June apple rust, lured the bruins out of the wild and into neighborhoods, particularly in Aspen where about a quarter of that year's euthanizations took place.
"In general, 2011 has been pretty quiet in regard to bear conflicts. The heavy snowpack and rainy weather have resulted in generally good forage production," Division of Wildlife spokesman Randy Hampton wrote in a recent email interview. "Berry crops did come on a bit late because of the late snow but appear to be producing nicely. Plentiful natural food can minimize bear encounters in some areas. Areas where bear habitat broadly overlaps human habitat and where human food sources such as trash are readily available continue to see bears that have been habituated to hanging around towns."
But while the number of black bears put down so far is in the low single digits, that could change quickly.
"Bear activity has risen sharply over the past week in the Aspen area," noted wildlife officer Kevin Wright, adding that he has put down two bears so far this summer. One of the euthanized bears broke through locked doors and ripped out a dog door. The other problem bear also tore through locked doors.
Reports of bears rummaging through trash and ransacking property are just now beginning to escalate, he said. Euthanizing bears is a last resort for wildlife officers, who more often relocate the animals back into the wild. In the upper Roaring Fork Valley alone, Wright said there have been about 100 bears relocated since 2007.
A similar scene is playing out in southern Colorado where the beasts are entering homes, garages, sheds, tents, chicken coops and damaging beehives to try to pack on the pounds before hibernation.
Hot, dry weather is putting a strain on the available green, palatable vegetation and insects in the southern part of the state, according to officers on the ground there who are urging residents to be vigilant.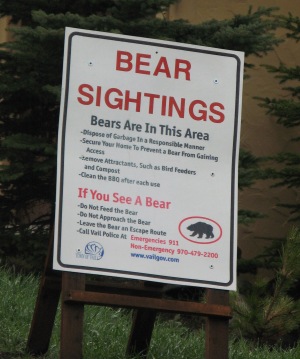 "During dry years like this, the bears have to look harder for food, and in doing so often end up finding what people leave out — garbage, bird feeders, barbecue grills and other human food," said Cory Chick, a wildlife officer who patrols the areas in and around Colorado Springs, Trinidad and Pueblo.
Educating humans on how to coexist with bears is the state agency's main prerogative. In spring, summer and fall, wildlife officers say people must secure their trash, bring in bird feeders and pet food, remove any other food attractants, and keep the doors and windows to their homes and vehicles shut and locked. Officials also warn against people who feel sorry for the bears and take it upon themselves to feed them.
"We are always going to have nuisance bears, but when bears are rewarded for foraging around houses and outbuildings, it increases the chances a nuisance bear becomes a dangerous bear," said Chick, adding that bears evolved during periods of dry spells long before humans settled the state.
"They will make it through this dry spell, too," Chick said. "Right now we just want people to take the proper precautions to avoid anyone getting injured and keep bears out of trouble."
Whenever natural food is scarce, bears are at risk. Over the years, Wright has seen bruins that have been run-over on highways, electrocuted, drowned, fallen into window wells, and killed by other bears.
Despite the best efforts of wildlife officials, not everyone is bear aware — a fact underscored last month when at least a couple of people were feeding bruins hamburgers and cheeseburgers outside of the Burger King in Eagle. State officials deemed it "an extraordinary example of stupid and irresponsible behavior."
"We have an incredibly active education effort aimed at people who camp, hike or live in bear-prone areas but most people assume that bear encounters are something that 'other people' deal with," Hampton wrote. "We've got more than 5 million people living in Colorado now. Many of them 'head to the mountains' during the summer. Additionally, many of our mountain communities began to build onto the hillsides in the 1990s, leading to homes being built in some of the best bear habitat in the mountain valleys. Add increasing energy development, expanding recreational activity, cattle/sheep grazing on national forest lands, loss of farming and ranching activities that served as buffer zones for communities, second-home ownership, increasing non-English speaking populations and tourists that visit from areas that don't have bears (Chicago, LA, etc.) … and you see what we're up against."
Here is a list of the number of bears Colorado wildlife officials have put down over the last decade:
2010 - 80
2009 - 89
2008 - 47
2007 - 60
2006 - 12
2005 - 20
2004 - 31
2003 - 13
2002 - 55
2001 - 27
2000 - 31
---

632 Comments on "Human-bear conflicts on the rise in Colorado"