Significance of Snowmass fossil dig settles in as crews resume scheduled construction project
When a Gould Construction worker first struck bone in Snowmass Village 10 months ago, it was crystal clear he had uncovered something big. The subsequent bone dig went from big to mammoth to mastodon and now to what's being called one of the most magnificent mastodon fossil sites on earth.
Humans and heavy machinery pulled parts of at least 30 mastodons — enormous and extinct elephant-like mammals with huge, curved tusks — out of the ground, providing a rare trove of data about what Pleistocene life must have been like in the Rocky Mountains many tens of thousands of years ago.
The fossil excavation at Ziegler Reservoir came to a close a couple of days ago, yielding an Ice Age ecosystem of 4,826 bones and evidence detailing
26 different vertebrae creatures
that also include giant bison, Columbian mammoths, super-sized ground sloths, deer, a horse, camel, otter, muskrat, vole, mink or weasel, chipmunk, bat, rabbit, beaver, mouse, salamander, frogs, lizards, snake, fish and birds.
There are parts of at least 10 bison, four mammoth, three deer, four species of frog and two species of lizard but the haul of American mastodons provides the bulk of the paleontological mother lode.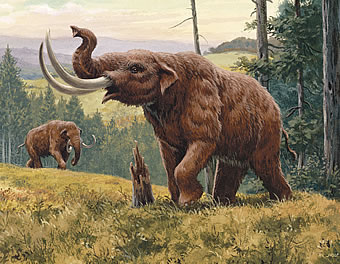 "Without question this is the finest mastodon site in the world," said Kirk Johnson, the chief curator of the Denver Museum of Nature and Science, which is in charge of preserving and studying the fossils.
American mastodons outlived Eurasian mastodons by a few million years, making the Snowmass site especially valuable to scientists who say there is no other place like it at this altitude with such well-preserved remains.
Sitting at almost 9,000 feet, it is the only site in Colorado to contain both mammoths and mastodons. Scientists add that the site is also home to the first discovery of a Jefferson's ground sloth in Colorado.
The fossils unearthed in Snowmass are radiocarbon dead — a sign they are probably between 43,500 and 150,00 years old,
according to paleontologists
, who say the reservoir was once home to an ancient lake where fauna, flora and sediment analyses show the preservation of two distinct time periods. At one time the topography was above timberline, scientists say, and at another time it was below it.
It is unclear how all the animals came to die in the area — one working
hypothesis is an earthquake
.
The ancient lake likely dried out and morphed into an alpine meadow 50,000 years or more before humans arrived in North America, paleontologists say. In the 1960s, a Wisconsin business man, R. Douglas Ziegler, turned it from a sheep pasture back into a watering hole for the area's new inhabitants. Ziegler Reservoir has been quenching the thirst of the ski resort's growing populace ever since.
And so it was while quadrupling Ziegler Reservoir's size for the resort's water supply that Jesse Gould would push up a mammoth fossil Oct. 14, ushering in a wave of excited scientists who worked tirelessly for 18 days before snow and frozen ground
put an end to the 2010 excavation
. The Denver Museum of Nature & Science crews excitedly returned for 51 more days this spring, along with local students and educators, sifting and digging through almost 8,000 tons of dirt. More than 230 different people participated, averaging 10-hour days, seven-days a week, usually in groups of about 45.
Many of the more delicate specimens required plaster jackets. A crane hoisted humungous skulls and pelvises, some weighing as much as 700 pounds, out of the ground where they were carefully loaded into rental trucks and driven to the Denver Museum of Nature & Science for research and display.
Crews also catalogued 125 logs and generous helpings of prehistoric peat, wood, leaves and rock.
The fossils are in such
extraordinary condition
because they were buried in wet silt and peat. Now exposed to oxygen, the bones are extremely fragile and can disintegrate should they dry too quickly. At the museum, they are getting cleaned and undergoing a careful drying process to best preserve them.
The mastodon and mammoth tusks have rings that can provide valuable information about the age and health of the beasts, and perhaps provide more clues to how they ended up in the bottom of a lake. Three-dimensional modeling and sediment evaluation are also expected to provide crucial data that may help better explain the evolution of life and landscapes in North America during the Ice Age. How the fossils illustrate the effects of climate change will be of particular interest to paleontologists.
Organizers are more than halfway to their
fundraising goal of $1.03 million
to cover the costs of the so-called Snowmastadon Project. The Crown family and Aspen Skiing Company Family Fund contributed $100,000, as did Mr. Monty Cleworth. The National Geographic Society donated $55,000 while Mr. and Mrs. William D. Armstrong and the Fred A. and Barbara M. Erb Family Foundation both gave $25,000. The Butler Family Fund, Mr. and Mrs. Charles Hazelrigg, the National Science Foundation and Mr. and Mrs. Michael Smith each pitched in $10,000.
Amazingly, the mother lode of data that sprung from the reservoir may just be the tip of the iceberg, so to speak. The excavation only focused on a fraction of the ancient lake and scientists say there are more bones and materials waiting to be discovered. It will have to wait, however, as the Snowmass Water and Sanitation District is contractually required to get back to work, creating a man-made reservoir where Mother Nature had designed one before.
It's quite all right, says the museum curator, noting that he and his colleagues already have their hands full of potentially groundbreaking prehistoric materials. The water from the reservoir will provide the perfect cover for the remaining fossils, Johnson said, and scientists can always hope to one day return to the reservoir and dig some more should the need arise.
---

25 Comments on "Significance of Snowmass fossil dig settles in as crews resume scheduled construction project"