Udall asks feds to decrease timber sale rates to boost Colorado sawmills, mitigate wildfire threat
Sen. Mark Udall, D-Colo., on Tuesday urged the head of the U.S. Forest Service and Secretary of Agriculture Tom Vilsack to rework timber sale contracts for logging on federal lands so that three financially struggling Colorado sawmills can stay afloat.
Udall said in a release that "the downturn in the housing market and the state's forest-management economy led to financial trouble for the mills — Intermountain Resources (Montrose), Mountain Valley Lumber (Saguache) and Delta Timber (Delta) — because their legacy timber sale rates are higher than it costs to remove the dead trees from the forest."
Udall points to the
more than 4 million acres
of dead lodgepole pine trees resulting from an ongoing mountain pine bark beetle epidemic.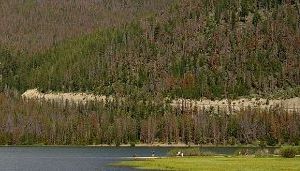 "These mills provide hundreds of jobs in Colorado's rural communities and are irreplaceable parts of the statewide infrastructure we need to reduce wildfire risk to communities and remove millions of hazardous beetle-kill trees adjacent to roads, power lines, trailheads, picnic areas, and campgrounds," Udall wrote in a letter to Vilsack and USFS chief Tom Tidwell. "I appreciate the role the market must play in timber sales, but at this juncture in Colorado we must maintain an infrastructure to safely and economically dispose of our surplus of dead timber."
Udall addressed so-called legacy timber sales
at a Senate Energy and Natural Resources Committee hearing on wildfire management last month, saying time is running short to start dealing with the beetle kill epidemic in an economically viable way. State lawmakers last legislative session
passed a bill
meant to boost the forest products industry, especially the consumption of dead trees in biomass power plants in order to generate electricity and hot water heat.
But some members of the conservation community have their doubts.
"The whole issue points out the problem of removing beetle kill — the dead lodgepole pine isn't worth much as a potential commercial product," Rocky Smith of Colorado Wild told the Colorado Independent. "That is why there are efforts to create a biomass industry, which might allow the use of dead lodgepole pine for heating and electric power generation. Those efforts have only had limited success."
Vail came up short
in its bid to build a multi-megawatt biomass power plant that would use the proven process of high-heat wood gasification to cleanly generate power and heat by consuming chipped up wood products. The process is considered carbon-neutral compared to forests biodegrading naturally or being consumed in wildfires.
"We are not against a wood products industry, but we want to make sure that it is sized appropriately and would sunset when the dead material runs out or is no longer available for product use," Smith said. "It is tempting to think that there is so much dead stuff out there, so we should try to facilitate creation of a large industry that could utilize it. But that could result in industry dictating what land could be harvested."
Smith also pointed out that the current state of the economy has lowered the demand for wood products.
---

21 Comments on "Udall asks feds to decrease timber sale rates to boost Colorado sawmills, mitigate wildfire threat"