Eagle County landfill weighs taking natural gas drilling pit liners banned two years ago in GarCo
Liners used to contain drilling, hydraulic fracturing fluids can be covered in toxic benzene, other chemicals
Eagle County's landfill manager is considering disposing of natural gas drilling pit liners that neighboring Garfield County stopped accepting two years ago because the massive, high-density polyethylene sheets are potentially toxic and too tough to handle.
Eagle County, which is not a major oil and gas drilling county, has been accepting other E&P (exploration and production) waste since last year, including drill cuttings mixed with drilling mud, sediments from water pits and soil excavated from underneath the liners that may have been contaminated. All the drilling waste has been tested to ensure it meets state standards.
However, Garfield County – one of the most heavily drilled counties in the state –
banned pit liners
in July of 2009,
citing tests
showing the liners can be coated with sludge containing toxins such as benzene, a known human carcinogen. Companies have been taking liners to nearby Mesa County and facilities as far away as Utah.
"Some of the soil and stuff that's come in I've actually handled some of that to see what kind of consistency it has," Eagle County Solid Waste and Recycling Director Ken Whitehead said when asked last month about the liner issue. "It's a lot like a dried sludge. But the liner stuff, that's a different story.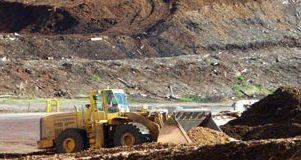 "I want to research that, especially if some of that stuff has permeated the liner and it has potential to come out. I don't know. Just based on what you've said, it's something I need to take a harder look at."
Pit liners became somewhat of a
political hot potato
after the state oil and gas regulatory agency, the Colorado Oil and Gas Conservation Commission (COGCC), passed a rule prohibiting the on-site disposal of the liners near the drilling pad when it revised its drilling regulations in 2009.
Some companies
have had success recycling the liners but still fought to overturn the rule.
Now the industry
has backed off its opposition to the new rule.
The liners are required in holding pits that store chemically tainted water which comes to the surface during drilling or that's pumped into the well during the
controversial hydraulic fracturing process
. The liners, meant to keep the water from leaking into groundwater supplies, are large and very unwieldy to deal with – sometimes requiring shredding for optimum disposal.
Eagle County Commissioner Jon Stavney said there has been some public concern voiced about accepting drilling waste at the county landfill near Wolcott, with people worried "like it's Yucca Mountain" – the nuclear waste disposal site in Nevada.
"It's really a lot more mundane than that for us," Stavney said. "The good news for us is that as construction waste went significantly down over the last couple of years, (E&P waste) just really helped fill a great gap for us. But people get real worked up about it."
Stavney said other forms of mining and excavation waste disposed of at the landfill are similar or even worse than E&P waste in terms of toxicity, but that everything is tested and disposed of according to state standards.
"We took the waste from underneath the B&B Gravel Pit [in Edwards] as well, and I would make the argument that it's probably just as bad, although it's not as political," Stavney said.
Barbara Christopher, a resident of Eagle County for more than 40 years, said she's worried about the spillover impacts from oil and gas drilling in neighboring Garfield County.
"The average person in Eagle County, what does that mean to have that stuff go into the dump down in Wolcott and how will it impact the Colorado River, because it's so very, very close to us," Christopher said. "I think Eagle County should have been more aware of this even when it was exclusively Garfield County's problem. To have our heads in the sand over this is really remarkable. It's only 60 miles away."
Right now, all the E&P waste being accepted in Eagle County comes from one company, Denver-based Antero Resources. Involved in drilling operations in the Silt Mesa subdivision and other Garfield County locations, Antero also has proposed a controversial 200-well drilling plan in the Battlement Mesa community. That project sparked an
aborted health impact assessment
to evaluate the air and water quality risks in the retirement community of more than 5,000.
Antero also has been targeted by the
New York law firm
that handled the massive class action lawsuit brought by cleanup workers at Ground Zero in New York City.
Whitehead said the loads of E&P waste coming in from Antero are all undergoing a battery of tests on a "single-delivery" basis — not just the profiling that's sometimes conducted for multiple loads — and that it all meets strict Colorado Department of Public Health and Environment (CDPHE) standards.
Stavney said upping the ante to take pit liners is something all three county commissioners would have to ultimately decide. The decision to take E&P waste was made by the previous solid waste director.
"I think there was just some prudent cash flow in taking what we have taken so far, but I'm definitely making a note here and it's my opinion that if we were to decide to do that [consider taking pit liners], it would be a commissioner-level decision," Stavney said.
---

37 Comments on "Eagle County landfill weighs taking natural gas drilling pit liners banned two years ago in GarCo"