Ritter slams GOP for politicizing drilling rules as he touts wildlife deals with gas industry
As Colorado voters turned in last-minute ballots to pick a Republican candidate for governor Tuesday, the current governor stood on the west steps of the state capitol in Denver and tossed a huge wrench in the GOP campaign machine's attacks on his "New Energy Economy."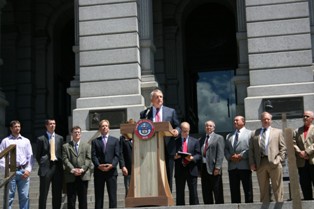 Ritter announced a groundbreaking deal with nine of the state's largest oil and gas producers to protect key wildlife habitat on more than 355,000 acres of the state's Western Slope under provisions of last year's amended and oft-criticized oil and gas drilling regulations.
"There have been people who have politicized the oil and gas regulations, but all the time they were politicizing it we were working hard with industry to get to this," Ritter told reporters after the announcement.
Republican gubernatorial primary candidates Scott McInnis and Dan Maes have hammered on Ritter for his role in passing the amended drilling regulations that went into effect in the spring of 2009. The new rules and regs give higher priority to air and water quality, public safety and wildlife habitat, requiring a Colorado Divisions of Wildlife consultation on drilling permits.
Tuesday's deal provides for upfront CDOW approval for drilling plans in the Piceance Basin, which will streamline and speed up the permitting process operators must go through with the Colorado Oil and Gas Conservation Commission.
Ritter said the downturn in natural gas drilling in Colorado that began late in 2008 was a product of the global recession and decline in prices, not the implementation of amended regulations needed to balance the state's energy demands with its tourism and outdoor recreation-based economy.
"People have tried to politicize the job loss and the downturn of the market, but all the while the industry and the oil and gas commission was trying to figure out how best to work though the permitting process so that it was industry-friendly," Ritter said.
McInnis and Maes have both promised to revisit if not outright gut the amended regulations, which they have persistently tried to tie to job losses in energy producing counties like Garfield and Weld. Both candidates have also tried to link Ritter's policies with presumptive Democratic gubernatorial nominee John Hickenlooper, the mayor of Denver who stepped in when Ritter pulled out of the race late last year.
Hickenlooper, a former oil and gas engineer who was laid off in the 1980s and went into the brew-pub business, has said some of the regulations should be tweaked, but in May he told the Colorado Independent he was not in favor of reopening the rulemaking process.
McInnis, who originally hails from the heart of the gas patch in Glenwood Springs and has served as attorney for the oil and gas industry, has been slightly more circumspect than Maes, who said he would hand out pink slips to anyone with an environmental bent on the oil and gas commission board. Still, McInnis has been plenty critical of the rules, saying they've pushed jobs to Pennsylvania and Texas, even though the evidence shows Colorado is ahead of its regional neighbors in permitting and drilling activity.
"It would be a bad idea to roll back the rules," Ritter said. "Those who are in favor of [a rollback] are merely looking at it as a political issue. They are not looking at this upturn in the economy and our ability to have this balance."
Asked about the timing of the announcement, in which nine operators – EnCana, Antero, Noble, Williams, Gunnison Energy, Exxon Mobil, Black Hills, Delta and Marathon – announced wildlife mitigation plans or comprehensive drilling plans, Ritter said it's a sign the industry is onboard with the new regs no matter the political landscape.
"The industry could have just taken an oppositional view and waited it out to see what the election brought, but they didn't," Ritter said. "They have been working with us and now we see an upturn in the activity and the kind of announcement we are making today ... wouldn't have happened without the industry."
Conservationists praised the deals, which will provide habitat protections for elk, deer, raptors, sage grouse and cutthroat trout over 550 square miles of land.
"These plans make good sense because they provide economic certainty for energy developers and habitat stability for wildlife," said John Gale, the National Wildlife Federation's regional representative for Colorado. "Like hunting and fishing, energy development is part of life in Colorado. These plans make sure drilling is done the right way and in the right places to protect wildlife."
COGCC director David Neslin, who has previously said the new wildlife rules were not proving onerous to the industry, on Tuesday said the new wildlife agreements "will allow for development of needed energy supplies while protecting some of our most iconic wildlife species."
---

844 Comments on "Ritter slams GOP for politicizing drilling rules as he touts wildlife deals with gas industry"