Polis floats draft wilderness proposal limited to Eagle, Summit counties
Local politicians and statewide environmental groups today hailed a draft wilderness proposal being circulated by U.S. Rep. Jared Polis called the Eagle and Summit County Wilderness Preservation Act.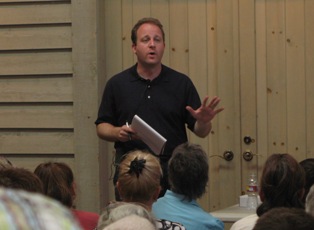 With Congress currently in recess, the proposal has not yet been formally submitted as a bill, but it reportedly is only focused on creating new wilderness and expanding existing wilderness in Eagle and Summit counties.
Polis spokeswoman Lara Cottingham today told Real Vail that the proposal is still just a "discussion draft" and that the congressman's office is still accepting any and all comments on the proposal. "We're still gathering input," she said, directing interested parties to go the
Polis website
for more information about the process.
The broader
Hidden Gems wilderness proposal
includes up to 342,000 acres of new wilderness in the White River and Gunnison national forests, encompassing four counties: Eagle, Summit, Pitkin and Gunnison.
The new Eagle and Summit County Wilderness Preservation Act would reportedly create nearly 170,000 acres of wilderness – public lands that are off-limits to motorized travel and industrial uses such as mining, logging and oil and gas production – in Eagle and Summit counties.
Those two counties fall in Polis's 2nd Congressional District, while Gunnison and Pitkin counties are in U.S. Rep. John Salazar's 3rd Congressional District. Salazar has already floated the separate
San Juan Wilderness Act
in the southwestern part of the state.
"Congress is in recess and so obviously anything formal has to wait," said Pete Kolbenschlag, director of the Hidden Gems Wilderness Campaign, adding he did not know if Salazar would propose another wilderness bill for the rest of Hidden Gems.
"We're not speculating on how and when all of that might happen. We're just trying to express our enthusiasm that the [Eagle and Summit County Wilderness Preservation Act] has happened. We think this is a great step."
According to Kolbenschlag, the Eagle and Summit County Wilderness Preservation Act designates nearly 170,000 acres as either wilderness or special management areas that allow helicopter training for the U.S. Army National Guard while "providing maximum landscape protections."
Kolbenschlag also said he thought the water issues brought up by a major water district in Eagle County last week have been addressed by wilderness proponents in Polis's new proposal. The
Vail Town Council last week
tabled a resolution of support for the proposal when the Eagle River Water Sanitation District expressed concerns about managing critical watersheds in the event of wildfires. The ERWSD wanted to put off wilderness legislation for two years.
Local politicians, including two of the three Eagle County commissioners expressed support today: "I'm thrilled with the professional manner in which Congressman Polis's office has moved forward this vibrant piece of proposed legislation that will preserve wilderness for future generations," commissioner Peter Runyon said in a release.
Eagle County Commissioner Jon Stavney said the Polis proposal is a good first step that can be fine-tuned later: "Wilderness is vital for our watersheds, ecology and our economy – it's why we live here. I'm excited that Congressman Polis saw the remarkable values of these areas and that his office came to the same conclusions that our board did with regard to supporting some areas today and continuing to work on building consensus about the other equally important areas."
The Eagle County commissioners publically supported a modified version of the controversial Hidden Gems proposal. Basalt Town Council member Pete McBride also issued a statement of support for the new Polis proposal. Basalt is in a corner of Eagle County that stretches into the Roaring Fork River Valley near Aspen, which is in Pitkin County.
"Congressman Polis deserves credit for this visionary action," McBride said. "Wilderness is a key part of the conservation toolbox, and conservation is critical to the future of Colorado. As a native Coloradan, a rancher, an outdoor enthusiast, a resident and trustee of the town of Basalt, I know that protecting the Fryingpan River watershed, which this bill would help do, is critical to the health of our community and the environment."
---

54 Comments on "Polis floats draft wilderness proposal limited to Eagle, Summit counties"