Salazar designates Hanging Lake, Golden Fossils Area as new national natural landmarks
U.S. Interior Secretary Ken Salazar today named two Colorado sites – Hanging Lake in Glenwood Canyon and the Golden Fossil Area near Golden — among six new national natural landmarks.
The new Hanging Lake National Natural Landmark is just off Interstate 70 east of Glenwood Springs. The 19-acre Golden Fossil Areas north and west of the city of Golden have been included in the existing Morrison Fossil Area National Natural Landmark, and the combined sites will be known as the Morrison-Golden Fossil Areas National Natural Landmark.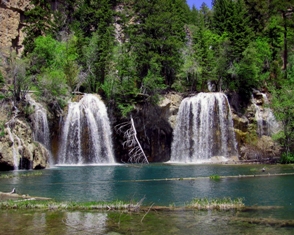 The other four new national natural landmarks are Barfoot Park in southern Arizona, Kahlotus Ridgetop near Kahlotus, Wash., Round Top Butte near Medford, Ore., and The Island in east-central Oregon. There are now
591 national natural landmarks
.
"One of the major goals of President Obama's America's Great Outdoors initiative is to develop a conservation ethic for the 21st Century," said Salazar, a former U.S. senator from Colorado. "By designating these remarkable sites in Arizona, Colorado, Oregon, and Washington as national natural landmarks, we help establish and pass down to future generations those awe-inspiring places that make America truly beautiful."
The Golden Fossil Areas, according to an Interior Department release, are considered among the most important paleontological sites on the Front Range of the Rocky Mountains. They include many unique fossil footprints of various reptiles, birds, and mammals.
The 72-acre Hanging Lake site is a spectacular example of a lake formed by travertine deposition – one that comprises a rare wetland ecosystem, including waterfalls and hanging gardens.
"This program not only encourages preservation of our nation's natural heritage but it also enhances our scientific understanding of these unique places," National Park Service Director Jonathan B. Jarvis said in a release. "Some of the landmarks are the best remaining examples of a type of feature in our nation – sometimes in the world – and we should continue to recognize and study these important natural features."
---

45 Comments on "Salazar designates Hanging Lake, Golden Fossils Area as new national natural landmarks"