Teva Mountain Games on schedule despite deep snowpack, high creeks, rivers
The Teva Mountain Games kick off Thursday in the Vail Valley, and event organizers promise the extreme spring weather pushing winter late into May won't impact the full slate of adventure sports competitions scheduled for Thursday through Sunday, June 2-5.
"The Teva Mountain Games start in just two days," said Shelley Woodworth of the Vail Valley Foundation, which organizes the annual event. "There have been some rumors flying that some of the races have been cancelled because of snow and/or high water, but at this point all the events are planned to take place as scheduled. Crews from the Vail Valley Foundation and Vail Mountain have been working hard for weeks to prepare the courses for all the competition."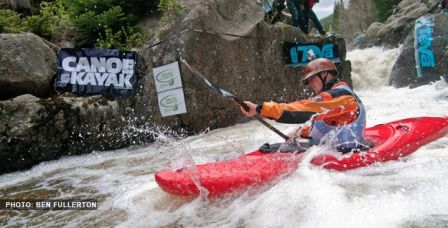 Vail enjoyed its all-time biggest ski season in terms of snowfall, recording 524 inches by closing day in April, and although it really hasn't snowed every day since then, it seems that way to a lot of winter-weary locals. Typically, the front side of Vail Mountain is mostly clear of snow – at least from Mid-Vail down – by Memorial Day.
But this season Golden Peak still has a fairly intact terrain park and half-pipe very near the base of Vail Mountain. With temperatures expected to surge up into the 60s all this week, conditions will be great for spectators and participants, but the mountain will be sloppy and local creeks and rivers will rise rapidly.
The Games get under way with the Steep Creek Championship, set for 10 a.m., Thursday, on Homestake Creek. Here's the description of the event from the official
Teva Games website
:
"Dropping a whopping 480 feet per mile, Homestake Creek is a paddling gem that was once known only to Vail Valley locals. Then, in 2002, local weatherman, shuttle driver and pro kayaker extraordinaire Ken "Hobie" Hoeve hosted a successful grassroots race on the creek with no more than a keg of beer waiting at the finish line.
"In 2003, the Mountain Games took Homestake Creek nationwide as some of the world's best paddlers hucked their meat down drops like "Leap of Faith" and "Piece of S**t." Race rules are simple -- the fastest time to the finish line of the quarter-mile creek wins."
All events – from rock climbing to mud running to dock dogs -- are free and open to the public, with many of them taking place in the far more accessible environs of Vail Village. For a
complete schedule of events
, go the Teva Games site. And to keep track of water levels, check out the new
Real Vail River Report
on the left side of the homepage down low.
---

237 Comments on "Teva Mountain Games on schedule despite deep snowpack, high creeks, rivers"