CD3 Rep. Tipton taking heat for Aspen-area bus funding holdup, support for 'Big Oil' tax breaks
U.S. Rep. Scott Tipton, the Republican who beat out Democrat John Salazar in Colorado's 3rd Congressional District last year, is taking some political heat of late for trying to save $15,000 in federal funding on a mass transit project in the Roaring Fork Valley while simultaneously declining to oppose more than $16 billion in tax breaks for oil and gas companies reaping record profits.
Tipton is reportedly holding up $24 million in Federal Transit Administration funding for the Roaring Fork Transportation Authority's Veloci-RFTA project because he wants to trim $15,000 for wifi for on the bus system. Colorado Democratic Sens. Mark Udall, Michael Bennet and Rep. Jared Polis (CD2) recently
fired off a letter
to the FTA requesting release of the funds in time for the short construction season in the mountains, and
Tipton declined to sign on
.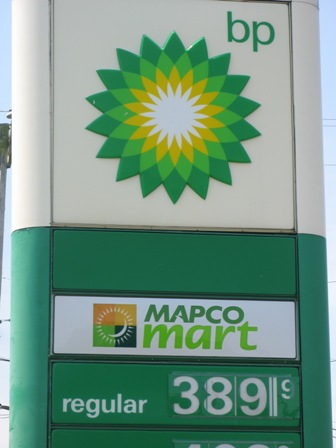 A nonpartisan nonprofit called Taxpayers for Common Sense was scheduled to hold a press conference Thursday in downtown Grand Junction – a Republican stronghold and epicenter of energy production in Tipton's Western Slope district – to "call on Representative Tipton to end subsidies to big oil companies."
The group will launch a newspaper ad campaign and
tout its new report (pdf
), "Subsidy Gusher: Taxpayers stuck with massive subsidies while oil and gas profits soar," which shows the top oil and gas companies reaping more than $16 billion in tax breaks and subsidies over the next five years.
"In a time of jaw-dropping deficits, taxpayers are being forced to line the pockets of Big Oil while they rake in massive profits," said Steve Ellis, Vice President of Taxpayers for Common Sense. "Oil and gas companies should pay their fair share."
Oil and gas industry officials
claim the tax breaks
are legitimate business deductions enjoyed by every business in America, but few of those companies are reaping the
massive profits
oil and gas companies are pulling in with prices topping $4 a gallon in many parts of the country.
The U.S. Senate Tuesday rejected the Close Big Oil Tax Loopholes Act of 2011, which would have ended the subsidies and tax breaks. Both Bennet and Udall voted for the act, which passed by a simple majority but did not get the 60 votes necessary to survive a filibuster.
Asked to comment on the Taxpayers for Common Sense campaign targeting Tipton and to provide his position on attempts to end the subsidies and tax breaks, a spokesman did not respond. Instead, the Colorado Independent received this statement from Tyler Q. Houlton, regional press secretary for the National Republican Congressional Committee:
"These misleading ads were bought and paid for by Washington special interests with no ties to Colorado, but with many ties to liberal elites. Hard-working Colorado families have suffered from skyrocketing gas prices due to the refusal of President Obama and Congressional Democrats to put forth an energy plan that reduces our dependence on foreign oil, expands domestic energy production, and creates and keeps jobs here in America."
The nonprofit Checks and Balances Project claims more than $21 billion in taxpayer dollars would have stopped flowing to big oil companies over the next decade had the Senate passed the measure. The group also cites polling showing nearly three-quarters of Americans favor ending the subsidies given that the top five oil and gas companies made a combined $32 billion in profits in the first quarter of this year alone.
Tipton continues to hammer on the need for increased domestic production, especially in his district.
"Families and business owners are hurting because of the skyrocketing gas prices that are hampering job creation and threatening economic recovery," Tipton recently told a gathering of Club 20 members in Washington. The lobbying organization represents business interests on Colorado's Western Slope. "We must revisit the excessive regulations that have stifled energy production in our country, put an end to the Obama Administration's defacto drilling moratoriums, and ensure multiple use of our public lands."
However, conservation groups and the U.S. Interior Department say oil and gas companies are under-utilizing leases that have already been granted for drilling on public lands in the United States.
Interior Secretary Ken Salazar, a former Colorado senator, testified Tuesday before the Senate Committee on Energy and Natural Resources (pdf) that the department is working to better facilitate the development of oil and gas on both the Outer Continental Shelf and on the nation's public lands.
"The administration is committed to promoting safe and responsible domestic oil and gas production as part of a broad energy strategy that will protect consumers and reduce our dependence on foreign oil," Salazar said. "Rising gas prices are putting an added strain on American families, and while there are no quick fixes to the problem, there are steps that we can take to secure America's energy future."
---

360 Comments on "CD3 Rep. Tipton taking heat for Aspen-area bus funding holdup, support for 'Big Oil' tax breaks"