Arapahoe Basin extends ski season as snow keeps falling
Summit County resort may stay open till Fourth of July
Arapahoe Basin will remain open seven days a week through June 5 and will reopen for summer skiing for at least two three-day weekends – Friday-Sunday, June 10-12 and June 17-19.
The ski area has reported more than 420 inches of snow this season and 15 inches in the last week. Because of the strong snow season and current 94-inch base, A-Basin will be able to push the ski season into the summer. This is the first time the area will experiment being open on weekends only.
"Having our greatest season in years, ideally we would like to stay open on the weekends until the fourth of July, but it's too early to know what the conditions will be to make that call," said Alan Henceroth, COO of Arapahoe Basin.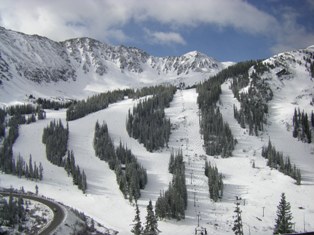 During Arapahoe Basin's summer season, the ski area will open at 8:30 a.m. with two lifts serving top to bottom skiing. Black Mountain Express will close at 2 p.m. and Lenawee Mountain Lift will close at 2:30 p.m.
Lift tickets at the A-Basin ticket window will be $39 for adults, $29 for youths (ages 15-19) and $19 for children (ages 6-14) during the summer season. No other discount or lift ticket offer will be accepted during this period. All season passes and pre-purchased lift tickets valid at A-Basin during the regular season will be valid during this summer season.
A $10 barbeque lunch special will be featured on the deck at Black Mountain Lodge, the A-Frame café will be open for breakfast, and the 6th Alley bar will serve pizza and drinks. The retail and rental shops will be open with ski, snowboard and clothing rentals and sales.
Arapahoe Basin 2011-12 season passes are on sale now and include free skiing for the rest of the ski area's spring and upcoming summer seasons. For more information, call 888-ARAPAHOE (272-7246) or visit www.arapahoebasin.com.
---

39 Comments on "Arapahoe Basin extends ski season as snow keeps falling"