Polis praised for Eagle, Summit County wilderness bill, but passage of legislation far from certain
Environmental groups Friday praised the renewed efforts of U.S. Rep. Jared Polis, D-Boulder, to protect more than 160,000 acres of public lands in Eagle and Summit counties as either wilderness or special management areas.
The Wilderness Society, Colorado Environmental Coalition, Wilderness Workshop and Colorado Mountain Club – backers of the original Hidden Gems wilderness proposal – issued a statement of support after Polis on Friday announced plans to reintroduce his
Eagle and Summit County Wilderness Preservation Act
.
Polis first introduced the bill late last session only to see it fizzle in the lead-up to midterm elections. Still, his goal was to get the language on the record and start building political support for compromise legislation derived from months of negotiations with various user groups. The bill includes a significantly scaled-back portion of Hidden Gems, which proposed more than 300,000 acres of new wilderness in Eagle, Summit, Gunnison and Pitkin counties.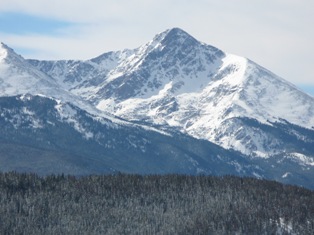 "Congressman Polis has worked hard to gather citizen input and craft a wilderness proposal that reflects the desires and needs of his district," Steve Smith, assistant director of The Wilderness Society in Colorado, said in a release. "He has created a proposal that deserves to be moved through Congress with bipartisan support."
Polis, who announced the reintroduction on Earth Day at the state capitol in Denver, did not include Hidden Gems lands in Gunnison and Pitkin counties because they're outside of his 2nd Congressional District. Conservationists remain hopeful they can see those lands included in a bill by 3rd Congressional District Congressman Scott Tipton, R-Cortez. Both Gunnison and Pitkin counties have voted in favor of increasing wilderness locally.
Polis is optimistic that even with Republican control of the U.S. House his bill can be included in some larger wilderness proposal or as part of an omnibus lands bill. He said it should be viewed as legislation that supports the state's $10 billion outdoor recreation industry and therefore enjoys wide-ranging bipartisan support.
"Preserving our natural resources strengthens the economic resources that support Colorado jobs," Polis said. "We also ensure that generations of Coloradans can enjoy these special places for fun, adventure or just enjoying the peace of the outdoors. That's why this bill, which is the product of months of consensus building, enjoys such broad support."
Outdoor photographer John Fielder and adventurer Aron Ralston, along with conservation groups and state and local politicians, joined Polis for Friday's announcement.
"Only 5 percent of Colorado's 66 million acres is legally designated wilderness," said Fielder. "It's simply not enough for a state whose economy is so dependent upon the integrity of its ecology. Wilderness protection makes people healthy, wealthy, and happy from an economy that is sustained by clean air and water, parks and trails, cobalt blue skies, and wilderness."
Polis cut more than 80,000 acres from the nearly 245,000 acres of public lands in Eagle and Summit counties first proposed for wilderness protection under Hidden Gems, which generated heated controversy over the last several years, particularly from off-road motorized vehicles advocates. Eliminating some of the more contentious areas of the plan considerably cooled the rhetoric, but now Polis faces a steeper uphill climb in the GOP-controlled House.
Tipton and other Republican members of Colorado's congressional delegations have been questioning U.S. Bureau of Land Management plans to begin protecting appropriate BLM lands under the Interior Department's "Wild Lands" policy. They decry limitations on motorized vehicle travel and road building that would curtail mining and oil and gas drilling.
However, the Polis bill has considerable local support, including from both the Eagle and Summit County boards of commissioners. Vail Town Council member Kerry Donovan spoke Friday at the capitol.
"My family has a strong history with wilderness," Donovan said. "From my grandfather shaping and defining wilderness boundaries because of his beliefs in the power of meeting nature on its own terms, to my parents introducing sustainability and recycling – it is this legacy that inspires me to be a part of this legislation. To add these proposed parcels to the existing wilderness completes a project started a lifetime ago."
The bill would expand the Holy Cross and Eagles Nest wilderness areas, which surround Vail.
"We're in the tourism business and people come to the mountains to experience the natural beauty of Colorado, so it only makes sense that we preserve the scenic, wild areas near Vail for posterity," Vail Town Council member and former Vail Resorts president Andy Daly said. "Polis' bill captures what we hope to achieve to protect our community's best interest."
Conservation groups and Hidden Gems backers cited the protection of areas like Castle Peak north of Eagle, Red Table Mountain between Gypsum and the Fryingpan River and Spraddle Creek just outside Vail.

---

15 Comments on "Polis praised for Eagle, Summit County wilderness bill, but passage of legislation far from certain"