Vail stages reportedly could be included in Lance Armstrong's Quiznos race in 2011
There's growing excitement in Vail and Aspen that the ski towns could be part of the inaugural Quiznos Pro Challenge international pro cycling event announced by seven-time Tour de France winner Lance Armstrong and Colorado Gov. Bill Ritter in Denver Wednesday.
Race organizers didn't name specific venues, except to say that the seven-day stage race will either start or end in Denver and likely include a stage in Boulder when it kicks off Aug. 22, 2011. Vail and Aspen officials are quickly working to make sure the revival of the old Coors Classic from the 1980s includes famous stages in and around both mountain towns.
"I hope the community throws everything we have at it," said former Vail councilman and avid cyclist Greg Moffet, who's seen several attempts to lure both road cycling and Armstrong come up short because of a lack of sponsorship. Vail Valley Foundation officials earlier this week told Real Vail they have been working to make sure Vail is part of any multi-stage Colorado event.
The Denver Post Wednesday
speculated Vail would be featured prominently in the event given the stages that were part of the old Coors Classic that ended in 1988.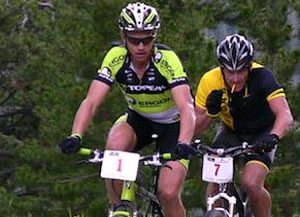 Those stages included a time trial in East Vail, a Maroon Bells stage in Aspen, a Copper Mountain to Vail stage, the famous Tour of the Moon near Grand Junction and the Morgul-Bismarck stage near Boulder.
But race organizers did not name specific stages Wednesday, saying such decisions still need to be worked out with local jurisdictions. Officials will be accepting requests for proposals, and other potential venues will be announced at a later date.
Ritter and Armstrong first began discussing the concept of reviving the old Coors Classic last year. According to
a release from Denver-based Quiznos
, Armstrong will be a partner in the event, with his role to become better defined at a later date.
"This is a great victory for Colorado," Ritter said in a release. "The Quiznos Pro Challenge promises to be a major pro-cycling event, bringing significant economic benefit and attention to our state. I want to thank my partners, Quiznos and Lance Armstrong for all of their hard work to turn this dream into a reality."
Thousands of cycling fans attended Wednesday's announcement on the west steps of the Colorado Capitol in Denver, with many of them joining Ritter and Armstrong afterwards for a ride to Washington Park and back.
The race, expected to attract top professional teams from around the world, is scheduled for Aug. 22-28, 2011, and likely will either start or end in Denver, with "a mix of mountainous, sprint and downtown stages, highlighting the beauty of Colorado and its communities."
"What started out as a 'daydream' of mine on a long ride outside of Aspen will now become a reality," Armstrong said in a release. "This race, although new, is already rich in history as is Colorado's storied cycling background – a perfect way to honor our past champions and highlight our future ones."
Quiznos officials say the Quiznos Pro Challenge will be sanctioned by USA Cycling and the International Cycling Union (UCI) and managed by Medalist Sports, which will solicit requests from interested venues.
Count Aspen Mayor Mick Ireland in,
according to Real Aspen
:
"I personally observed the Maroon Bells stage years ago and it was beautiful," said Ireland, a cycling enthusiast. "I have asked both city staff and county to start thinking about this. City staff will get an application for hosting the event. I have been hearing from Mr. Armstrong and Gov. Ritter about this all year and encouraged them to make a state race happen. I know Gov. Ritter has met with Mr. armstrong on this here in Aspen several times.
"We have not been consulted about route choice but I understand Mr. Armstrong is seriously interested in becoming more active in the community and that bodes well for our chances," the mayor added. "We are adjacent to a formidable and scenic pass that would be great for the event and we have hosted crits before for pros. I hope we will be chosen for both."
---

266 Comments on "Vail stages reportedly could be included in Lance Armstrong's Quiznos race in 2011"