Yet another draft of Colorado Roadless Rule draws enviro fire for logging, ski area, coal mining exemptions
The State of Colorado and the U.S. Forest Service today announced yet another draft version of the controversial Colorado Roadless Rule that has been hotly debated for nearly six years. Already environmental groups indicated the new draft rule falls short of protecting some of the state's 4.2 million acres of roadless national forest land.
The release of today's draft plan and draft environmental impact statement starts the clock ticking on what may be the final 90-day public comment period after nearly five and a half years and more than 200,000 public comments. The Obama administration hopes to finalize the Colorado Rule by January of next year.
"We're one step closer to actually having roadless protection in this state," regional forester Rick Cables said on a conference call with reporters. "[This rule] provides for durable and contemporary roadless protection in Colorado and it allows for certain multiple uses and certain exemptions."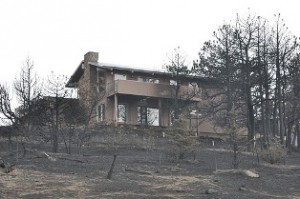 Those exemptions include road building for coal mine expansion along the North Fork of the Gunnison River, ski area expansion around the state and temporary roads for logging up to a half mile out from communities in the midst of hundreds of thousands of acres of beetle-killed national forest land considered at high risk of wildfire.Cables said "a lot's changed in the ensuing decade" since the Clinton administration introduced a national roadless rule designating higher levels of protection for 58 million acres of national forest in the United States. In Colorado, the mountain pine bark beetle epidemic has killed millions of acres of lodgepole pines in the state's national forests. The Colorado Rule would allow temporary road building a half mile out and fuel mitigation (thinning) up to a mile and a half from threatened
communities
.
But conservation groups argue the Clinton Rule provides a higher level of protection and that pending litigation should be decided before the Obama administration moves forward with the Colorado Rule.
"The 2001 national roadless rule is the gold standard, and protects Colorado roadless areas now," said Ted Zukoski, a Denver-based attorney for the environmental law firm Earthjustice."The Obama administration promised the Colorado Rule would protect our remaining roadless forests as well as or better than the national rule. It doesn't."
The road building exemption to vent methane from expanded coal mines in the North Fork of the Gunnison area was defended by Cables as an important economic use that will sustain approximately 2,200 mining jobs in the state. Zukoski blasted that decision.
"The proposed
Colorado Roadless Rule (pdf
) has damaging loopholes," Zukoski said. "It will allow 20,000 acres of our state's remaining wild forests to be scarred with bulldozers for coal mining, a dirty energy source. And it doesn't end the threat of oil and gas leasing on leases pushed through by the Forest Service after 2001."
The Bush administration quickly threw out the Clinton Roadless Rule early in 2001 and later set up a process whereby states could petition for individual roadless rules on federal lands. Only Idaho and Colorado, under then-Gov. Bill Owens, went down that road, starting a bipartisan task force process that resulted in the first Colorado Rule under Gov. Bill Ritter's administration in 2008.
Meanwhile, various legal challenges to the Clinton Rule have been tied up in U.S. district courts for years, but the Forest Service allowed a number of oil and gas leases to go through after the Clinton Rule was thrown out. Mike King, head of Colorado's Department of Natural Resources, said the fate of those leases is in the hands of the 10th Circuit Court of Appeals, which is considering a ruling by a Wyoming district court invalidating the 2001 Clinton Rule.
"We've been waiting on a decision from the 10th Circuit Court of Appeals on Judge Bremmer's decision out of Wyoming for quite some time … ," King said, "and that really will determine what the status is of the [oil and gas] gap leases. Right now they're just very much in limbo."
All the more reason for the Obama administration to hold off, said Zukoski, who has been involved in litigation defending the national Clinton Rule in courtrooms around the western U.S.
"The Obama administration should not put forward a watered-down roadless rule for Colorado when the 10th Circuit could uphold the national rule here any day. We shouldn't have to accept weaker protections for our roadless areas."
However, King and Cables argued the Colorado Rule actually provides better protections for the state than the national rule, which is in legal limbo. This new draft includes so-called "upper tier" protections for more than 562,000 acres of the state's overall 4.2-million acres of roadless inventory. Critics point out, however, that that's a much lower percentage than the Idaho Rule, which has been approved and is in effect.
"Colorado's national forest lands support some of the largest mule deer and elk herds in the nation, and we can't afford to sell these backcountry areas short," Theodore Roosevelt Conservation Partnership field representative Nick Payne said in a release.
"Hunters and anglers urge the administration to carefully review the successful conservation outcome attained in the Idaho Roadless Rule, including the expansion of upper-tier roadless acreages valuable to big-game populations and fisheries, with the goal of reaching a similar conclusion in Colorado."
Idaho designated about 30 percent of its roadless areas as upper tier, or upper theme, meaning they have higher levels of protections from future exemptions written into the rule. Colorado is proposing about 11 percent as upper tier.
"Idaho started from a different place," King said. "Colorado has a long history of taking roadless areas and considering them for congressional designation as wilderness. Idaho has not done that, and so they had more raw inventory from which to begin work and that's why, from a percentage basis, more of the most special places within roadless were eligible and probably appropriate for that upper tier, or their higher theme as they called it in Idaho."
Jane Danowitz, director of the U.S. public lands program for the Pew Environment Group said her organization will work hard to make the current draft much better ahead of a final decision.
"The Obama administration has made some important improvements to the state's initial plan but falls short in carrying out its commitment to protect all of Colorado's national forests with a policy as strong as the 2001 Roadless Rule," Danowitz said. "The plan protects a fraction of the forests in Colorado, leaving some of the state's best backcountry vulnerable to increased road-building, expanded coal mining and new oil and gas development."
---

42 Comments on "Yet another draft of Colorado Roadless Rule draws enviro fire for logging, ski area, coal mining exemptions"