Oil shale expert says Obama administration stalling much the way Bush dragged feet on climate change
Dr. Jeremy Boak, a leading expert on oil shale technology at the Colorado School of Mines, says the Obama administration is dragging its feet on oil shale production in the United States much the way the Bush administration stalled on climate change policy.
Boak, the director of the Center for Oil Shale Technology and Research at the Golden-based school, recently blasted Interior Secretary Ken Salazar's plan to take a "fresh look" at Bush administration rules for oil shale leasing on U.S. Bureau of Land Management (BLM) land in Colorado, Utah and Wyoming. Salazar in February said the BLM needs to have a better idea of the "amount of power needed, water needed and the impact to wildlife habitat and watersheds."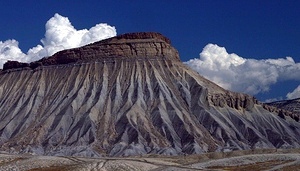 "It's curious to hear the same sort of arguments being made by this administration that were made by the Bush administration for not doing anything on climate change," Boak told the Colorado Independent. "We've got to have all the answers before we can move."
Citing the "driest period on record in the Colorado River basin, Lake Mead water levels at historic low levels and impacts on the agricultural economy,"
Salazar has said the Bush oil shale rulemaking
"put the cart before the horse" by setting royalty rates at 5 percent for the first five years of oil shale production and opening up 2 million acres of BLM land to leasing before more research and development was completed.
Oil shale production has never been proven commercially viable in the United States because the process of heating shale rock to extract organic kerogen and then refine it into oil consumes a great deal of water and conventional power.
A Shell official in 2009 confirmed
to the Colorado Independent that his company's process consumes at least three barrels of water for every one barrel of oil – a significant amount in the arid Colorado River basin.
Boak says that figure may wind up being closer to a one-to-one ratio, but regardless, he says the administration has its answer and needs to move oil shale research and production forward in light of rising global fuel costs and the increasing need for domestic energy production.
"It is a distortion to say we have to have an answer about water use because we have an answer about water use and either that answer is good enough – that three barrels per barrel is something we can live with – or it isn't," Boak said. "If it isn't, then it's incumbent on both the government of Colorado and the federal government to say why it isn't and to say what is OK, and they have completely evaded that responsibility."
State Sen. Steve King, R-Grand Junction, recently sent a letter to Colorado Sens. Mark Udall and Michael Bennet seeking support for a provision in a U.S. House funding resolution that would have blocked Salazar's bid to revisit the Bush oil shale rules. Those rules were passed in the waning days of the administration in 2008 and promptly challenged by environmental groups. Salazar's revisiting of the rules is part of a settlement with those groups.
"Salazar's decision to enter into a wink-and-a-nod settlement with the environmentalist opponents of oil shale and appease them by scoping out a new round of restrictions and royalty requirements is exactly the wrong policy for the Western Slope, for Colorado and indeed for America," King wrote.
Boak also refutes a Rand Corporation report predicting it will take up to 10 new coal-fired power plants to generate the heat needed to produce just 1 million barrels a day of the estimated 2 trillion barrels of oil equivalent trapped under an approximately 16,000-square-mile area under northwestern Colorado, eastern Utah and southeastern Wyoming called the Green River Formation. New research by Shell and other oil companies indicates the heat will come from gas, he said.
"Their primary option is to use the natural gas that comes along with the oil," Boak said. "That's a significant fraction, especially for these companies that are doing in-situ. When you cook it more slowly you get a higher gas-oil ratio, so you get a higher fraction of it as natural gas."
Shell's in-situ process involves heating the rock deep underground rather than mining the shale rock and retorting it on the surface.
Still, conservationists and alternative energy advocates say it's prudent to take a slower approach on leasing and royalty rates until more research is completed.
"I personally remain somewhat skeptical that oil shale will be unlocked, but if private companies want to spend money doing work in that direction, more power to them – as long as it's done in a balanced and coherent way," said Randy Udall of the Association for the Study of Peak Oil & Gas – USA. Udall, the brother of Sen. Mark Udall, says it's not out of the question to at least study oil shale production, despite its potential heavy industrial impacts on public lands.
"It is reasonable for companies like Shell that are having great difficulty increasing their own oil production – in fact Shell's oil production of crude oil has been trending down over the last decade – so there are lots of oil companies that kind of wonder what comes next," Udall said. "At least some of them think it's reasonable for them to spend some of their RD&D money looking at oil shale, even though all of them – experienced petroleum geologists – understand what a big lift it will be ever to commercialize oil shale."
Exactly why Boak says the initial 5 percent royalty rate set by the Bush administration makes sense. After five years that rate climbs 1 percent a year until it reaches a 12.5 percent cap for the 20 to 30-year life of the lease. The discounted rate up front allows companies to recoup capital costs that will likely be much higher than conventional oil and gas drilling, Boak says.
The size of the area opened for leasing is also under review by the BLM.
"We're not sure that 2 million acres should be allocated for this type of use, but nonetheless we're willing to go back and revisit that issue and through an amendment to our land-use planning process make that determination," BLM Director Bob Abbey said in February.
Asked why such a large swath is needed, Boak said, "Because it's where the oil shale is. Otherwise you're making judgments about which oil shale is OK to lease out and which is not instead of letting industry decide which it would like to lease out and which it would not."
---

425 Comments on "Oil shale expert says Obama administration stalling much the way Bush dragged feet on climate change"