I-70 to be closed next week for rock removal near Georgetown
Interstate 70 will be closed in both directions Tuesday, April 5, and possibly Wednesday, April 6, so highway workers can remove loose boulders near Georgetown.
Beginning at 9 a.m. on Tuesday, April 5, eastbound and westbound I-70 will be closed to through traffic between the U.S. 40/Empire (Exit 232) and Silverthorne (Exit 205) interchanges, allowing crews to safely bring down a large, unstable cluster of boulders located on the slope above the highway.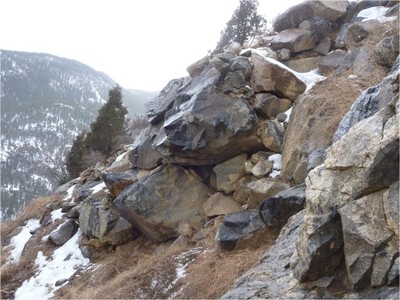 Local traffic between Empire Junction and Georgetown (westbound) and between Silverthorne and Silver Plume (eastbound) still will be allowed to travel I-70 up to the closure points, closer to the rockfall site. Due the number of boulders that need to be removed, the highway is expected to remain closed until 5 p.m.
If the mitigation is not completed on Tuesday, the Colorado Department of Transportation (CDOT) will need to close I-70 again from 9 a.m. to 5 p.m. on Wednesday, April 6. In addition, CDOT may need to also repair any fencing or netting that is damaged from the falling rock and debris.
While I-70 is closed, the primary detour routes between the Front Range and the Western Slope are:
* I-70 to U.S. 40 (Empire Junction), U.S. 40 west over Berthoud Pass to Kremmling, and State Highway 9 south to I-70 in Silverthorne (73 miles).
* U.S. 285 southwest to Fairplay, State Highway 9 north over Hoosier Pass to I-70 in Frisco (101 miles).

---

64 Comments on "I-70 to be closed next week for rock removal near Georgetown"