Actor Charlie Sheen pleads guilty to domestic violence assault in Aspen
Charlie Sheen blew kisses, flashed peace signs and pumped his fist Monday afternoon to the adoration of his fans as he walked into the Aspen courthouse to answer charges that he abused his wife on vacation here.
The star exited 45 minutes later and, prompted by a camera man who asked him what he was going to do next, Sheen deadpanned: "I'm going to Disneyland." He then smiled, raised his arm in the air and flashed another peace sign.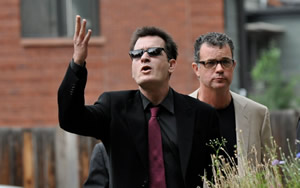 It was that kind of day for Sheen, who, inside the courthouse, received what most agree is a sweet deal.
Prosecutors agreed to drop the more serious charges he was facing in exchange for the actor's guilty plea to misdemeanor domestic violence assault. As part of the deal, instead of going to jail, Sheen was sentenced to 30 days at Promises Treatment Center in Malibu, Calif., 36 hours of anger management counseling, and probation for three months. Making matters easier for Sheen is that he recently completed a stint at Promises, as well as 36 hours of anger management counseling.
"The sentence will be administered and executed at Promises and the Promises administrators have the authority to give Charlie credit for time already served, or they can shorten his sentence, lengthen it or interpret the order however they choose," Sheen's attorney, Yale Galanter, said in an interview.
A source familiar with the plea deal says he didn't think Sheen would spend any more time at Promises at all, and that the district attorney's office has agreed to accept the previous counseling Sheen underwent, so basically all that's left for Sheen to do is three months of unsupervised probation, plus pay court costs and fees.
The source said that Galanter, a part-time Aspen resident who originally represented the victim, Sheen's wife Brooke Mueller, orchestrated the deal by convincing Sheen to go to rehab and complete counseling knowing full well that those could be conditions of sentencing.
In June, Sheen had his bags packed for 30 days in the Pitkin County Jail as part of
a plea deal that fell apart
at the last minute when terms over a proposed work release program were nixed by a supervisor.
That provided more time for Galanter to convince DA Martin Beeson that the prosecution's case was weak: One of the arresting officers, Rick Magnuson, conducted what was widely perceived as a "custodial interrogation," meaning Sheen was not properly read his rights before making statements to police.
Another responding officer, Valerie McFarlane, left the force months later over alleged ethical breaches. That mostly left the prosecution with a 911 recording in which the victim says Sheen attacked her but Brooke Mueller had been a reluctant witness for the prosecution, asking the DA to drop the case.
Court records
show Mueller initially told police that after a Christmas morning argument, Sheen jumped on top of her, straddling her on a bed with her neck in one hand and a knife in the other, and threatened to kill her.
She claimed Sheen was upset because she told him she wanted a divorce. Sheen allegedly admitted to police that he was arguing with her, broke a pair of her glasses, and slapped her on the arms. But he denied ever threatening to kill her or causing her any serious bodily harm.
In court Monday afternoon, Sheen, 44, wearing a dark suit and purple tie, appeared in high spirits. Judge James Boyd asked him to enter his plea on the misdemeanor assault charge. "Guilty as charged your honor," he answered. Asked why he was entering the plea: "Because I'm guilty your honor."
The highest paid actor on TV in the hit comedy "Two and a Half Men," told the judge he had "more than enough time" to consider his plea bargain and that he was pleased with his attorney's efforts.
But in the parking lot outside of the courtroom, Sheen was more frank.
"Yale Galanter is a rock star. What can I tell you?" he said.
---

54 Comments on "Actor Charlie Sheen pleads guilty to domestic violence assault in Aspen"