FASTER foes see final bill to curtail vehicle registration fees shot down in Senate committee
Opponents of the last significant anti-FASTER bill still kicking in the State Legislature celebrated its demise in committee on Wednesday. House Bill 1084, sponsored by Republican Kevin Grantham in the Senate and Republican Randy Baumgardner in the House, was killed 3-2 by the Senate State, Veterans and Military Affairs Committee.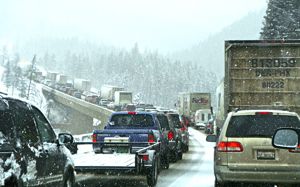 "FASTER enables Colorado to fix crumbling bridges and ensure the safety of the traveling public," said Pam Hutton, chief engineer at the Colorado Department of Transportation (CDOT). "Safe and efficient operation of our transportation system is a linchpin of our Colorado way of life."
HB 1084 would have
rolled back the mandatory vehicle registration late fees
of up to $100 imposed under FASTER – a stopgap funding measure that in 2009 increased overall registration fees to pay for repairs to 128 structurally deficient bridges in the state. Republicans have relentlessly hammered on FASTER as an unfair tax increase during an ongoing recession, frequently using it on the campaign trail in recent elections.
However, there have been
few concrete proposals for finding permanent revenue sources
to make up serious CDOT budget shortfalls, including money needed to fix weekend gridlock along Interstate 70 between Denver and Vail. The state agency says it needs another $500 million a year just to get Colorado roads back to an acceptable baseline level of repair and upkeep.
FASTER, pre-recession, was supposed to bring in an additional $250 million a year. It's fallen short of those projections but has still made a serious dent in critical road and bridge repairs, according to CDOT officials. And FASTER backers also say it's helped create jobs.
"FASTER has created or saved about 7,000 jobs since its passage in 2009," said Tony Milo, executive director of the Colorado Contractors Association. "House Bill 1084 would have eliminated a significant portion of these jobs just when the economy is starting to show signs of improvement."
---

210 Comments on "FASTER foes see final bill to curtail vehicle registration fees shot down in Senate committee"