Polis looks to add natural gas regs as Tipton continues assault on government oversight
Garfield County extends health study deadline for Battlement Mesa
Even as U.S. Rep. Jared Polis, D-Boulder, continued his crusade last week to step up federal oversight of the natural gas drilling industry, his fellow Western Slope congressman, Republican Scott Tipton of Cortez, proposed a new regulatory impact study (RIS) to tabulate the fiscal impacts of federal regulations on industry.
"I'm exploring ways to cutback regulation, including possible legislation to require a regulatory impact study — an RIS, similar to an EIS for environmental issues — and establish a joint House and Senate committee on regulatory oversight," Tipton wrote in a
guest column for the Grand Junction Daily Sentinel on Sunday
.
Tipton, who represents the vast majority of the Western Slope in his 3rd Congressional District, has also floated legislation to strip the U.S. Environmental Protection Agency (EPA) of a significant amount of its regulatory authority.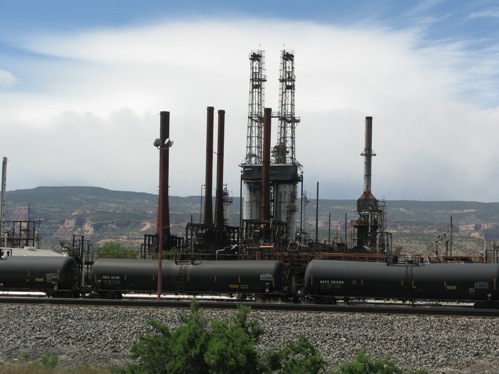 Polis, whose 2nd Congressional District straddles the Continental Divide and stretches from Boulder west to the western edge of Eagle County, wants to see the EPA regulating certain aspects of natural gas drilling previously exempted from federal oversight.
Polis last week introduced the
BREATHE (Bringing Reductions to Energy's Airborne Toxic Health Effects) Act
to remove two natural gas exemptions from the Clean Air Act. Earlier this month, Polis, along with Denver Democrat Diana DeGette, reintroduced the
FRAC (Fracturing Responsibility and Awareness of Chemicals) Act
, which would eliminate another natural gas drilling exemption from regulation under the Safe Drinking Water Act.
Monday the Colorado Oil & Gas Association — the primary lobbying organization for the industry in Colorado – responded to Polis's BREATHE Act:
"Our industry supports reasonable environmental regulation," COGA President and CEO Tisha Conoly Schuller wrote in an email. "It is crucial that we carefully evaluate new regulation to ensure that it is adding additional safeguards and not simply providing impediments to economic development and affordable energy creation.
"We encourage our lawmakers and stakeholders to avoid hyperbole and mischaracterizations of the industry as they engage in a dialogue to strike a balance between appropriate environmental protections and economic development. Nationwide, it is important that we have a balanced conversation about energy development and environmental protection."
Polis, in a release last week, cited an ozone alert in Pinedale, Wyo., that shut down drilling operations in that area, and he said that increased drilling activity nationwide has led to a spike in emissions that in some areas is having adverse health impacts.
"The sheer number of wells has grown exponentially in recent years, and this growth correlates directly to an impact on regional air quality and resident health in areas of active drilling," Polis said.
In Garfield County, the second most drilled county in the state, Battlement Mesa residents continue to push for increased county regulation over a proposed drilling plan that could see up to 200 new wells on public areas inside the subdivision. Garfield County is in Tipton's congressional district.
Paid for by the county and conducted by the Colorado School of Public Health using data collected in large part by Antero Resources, the Denver-based company proposing the Battlement Mesa drilling planning, the health impact assessment (HIA) is open for public comment until April 27.
In its executive summary, the HIA states that the "health of Battlement Mesa residents will most likely be affected by chemical exposures, accidents/emergencies resulting from industry operations, and stress-related community changes." The HIA goes on to make more than 70 recommendations for mitigating those impacts.
Four of its recommendations, including full public disclosure of all chemicals used during drilling operations, should be implemented prior to the county approving a special use permit for Antero's drilling plan, according to the HIA. There are another 16 actions recommended as conditions of the county permit approval.
"I feel the HIA team has done an outstanding job of identifying the risks and making recommendations to minimize the negative impacts," Dave Devanney of Battlement Concerned Citizens wrote in an email. "It will soon be up to our county commissioners to listen to the public health experts and heed their warnings."
Antero was seeking a one-month extension to continue to review the second draft of the HIA, which has already been rewritten once to address industry concerns, and the commissioners granted that request in a meeting Monday afternoon.
---

17 Comments on "Polis looks to add natural gas regs as Tipton continues assault on government oversight"