Vail Valley Foundation working to make Vail part of pro cycling stage race in 2011
Vail Valley Foundation officials Monday confirmed they're working on making Vail part of a 2011 pro cycling stage race in Colorado that's expected to be announced by race officials on Wednesday.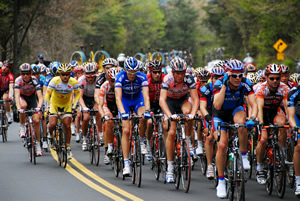 "The Vail Valley Foundation, along with others in the state, have been working together to bring a pro tour stage cycling event back to Colorado and we're excited that this will occur in 2011," said VVF spokesman John Dakin. "Now, we turn our attention to working hard with the sponsors to have Vail be one of the stops on this tour."
The
Denver Post
late last week cited unnamed sources confirming an August 2011 multistage event will be announced Wednesday.
Real Vail last month reported
that officials with the Vail Valley Foundation – which previously has organized two mountain biking world championships in Vail – were closely monitoring talks between seven-time Tour de France winner Lance Armstrong and Gov. Bill Ritter to revive a Coors Classic-style event.
VVF President Ceil Folz in a previous interview told Real Vail that she once worked on the Coors Classic stage race that grew to enormous popularity before ending in 1988. The race included several famous stages in East Vail and Vail Village, as well as stages that started in Vail.
The VVF tried to start a road racing revival with the Colorado Stage in 2008 but had to pull the plug due to a lack of sponsorship.
"We've been keeping up to speed and are big supporters of that concept, and while our initial effort at the Colorado Stage failed from sponsorship issues, we always knew and still know today that Colorado needs and deserves a major cycling event," Folz previously told Real Vail.
---

64 Comments on "Vail Valley Foundation working to make Vail part of pro cycling stage race in 2011"