Vonn 16th in slalom as Riesch fails to finish; overall lead down to just 23 points
Kostelic clinches first men's overall title
SPINDLERUV MLYN, Czech Republic – Vail's Lindsey Vonn moved within 23 points of the Audi FIS Alpine World Cup overall lead Saturday as Maria Riesch of Germany failed to finish the slalom second run.
Vonn, who earned the first giant slalom podium of her career Friday and has already secured the super combined, downhill and super G titles, was tied for 16th on the day to earn 15 valuable points.
Vonn was 12th best after the first run of today's slalom and Riesch was 15th, but the German crashed in the second run and Vonn was 20th to wind up 16th overall.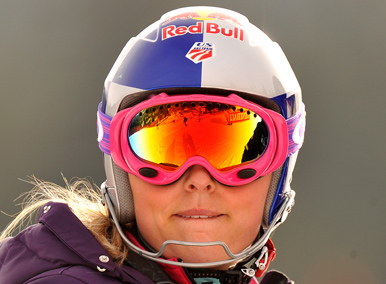 Vonn came into the weekend of technical races, which Riesch has dominated this season, trailing by 96 points in the overall. She improbably made up 73 points with just four races -- slalom, GS, downhill and super G at next weekend's World Cup Finals -- left on the schedule.
"I honestly never expected this to happen," Vonn said. "I was hoping to stay as close to Maria as possible, but to make up as many points as I did this weekend was definitely above my expectations. It just goes to show that anything can happen in ski racing."
Recently crowned slalom World Champion Marlies Schild of Austria continued her storybook season with her sixth slalom win to lock the discipline title today.
Vail's Sarah Schleper was 11th and Resi Stiegler, of Jackson Hole, Wyo., earned a season-best 15th.
The women's tour now moves to Lenzerheide, Switzerland for the final four individual races of the 2011 season.
"I have to approach every race the same," Vonn said. "No matter if it's a speed race or a tech race, I can't hold anything back and that's what I've been doing the last couple of weeks. In Lenzerheide, I'm going to stick to that plan, reevaluate things after each race a stay excited for the challenges ahead."
Vonn knows she could have picked up even more points on Riesch with a better second run in today's slalom.
"The second run really didn't go as well I'd hoped, but it was a really tough course. I got some points and some confidence and all-in-all it was a fantastic weekend."
Head coach Alex Hoedlmoser said Riesch's grueling schedule may be catching up to her.
"We were hoping that the full program that Maria did was going to take its toll on her body and her mind towards the end of the season," Hoedlmoser said. "She's showing some nerves and it's reflecting in her confidence, but right now Lindsey is incredibly confident. We're hoping to keep the momentum going and see what the outcome is."
Hoedlmoser was also happy with the rest of the team skied, including Vail's Schleper.
"Sarah showed two solid runs today and if you look at the time differences between the girls around Sarah, it was a really tight race and with Resi, we can see her speed is back," he said. "Obviously the consistency can't always be there after such a long break from racing, but she's wicked fast and she can really look forward to next season."
Yet another Vail racer got some invaluable World Cup experience. Mikaela Shiffrin skied well but failed to qualify for a second run in either Friday's GS or today's slalom.
"It was a good experience for Mikaela [Shiffrin] and I'm glad we brought her over," Hoedlmoser said. "She handled everything really well and did a great job. She had a big mistake right before the finish and still almost qualified. We know she has the speed to qualify and with another prep period, she's going to be good."
OFFICIAL RESULTS
Audi FIS Alpine World Cup
Spindleruv Mlyn, Czech Republic – March 12, 2011
Slalom
1. Marlies Schild, Austria, 1:43.85
2. Kathrin Zettel, Austria, 1:44.78
3. Tina Maze, Slovenia, 1:45.01
-
11. Sarah Schleper, Vail, CO, 1:46.56
15. Resi Stiegler, Jackson Hole, WY, 1:46.73
-
Did not qualify 1st run:
Mikaela Shiffrin (Vail, CO)
Kostelic clinches first men's overall title
KVITFJELL, Norway (March 12) – Ivica Kostelic of Croatia finshed 21st in today's downhill to mathematically clinch his first Audi FIS Alpine World Cup overall title. With just five races remaining on the calendar, Kostelic holds an insurmountable 518 point lead.
Austria's Michael Walchhofer took the 14th downhill victory of his career to move into discipline lead by 14 points over Swiss Didier Cuche with only the World Cup Finals downhill remaining. Teammate Klaus Kroell was second with Friday's downhill winner Beat Feuz of Switzerland in third.
Steven Nyman (Sundance, UT) led the U.S. Ski Team for the second straight day with 20th with Erik Fisher (Middleton, ID) in 25th. Walchhofer, who has won the World Cup downhill title in 2005, 2006 and 2009, will retire at the end of this season.
OFFICIAL RESULTS
Audi FIS Alpine World Cup
Kvitfjell, Norway – March 12, 2011
Downhill

1. Michael Walchhofer, Austria, 1:45.92
2. Klaus Kroell, Austria, 1:46.05
3. Beat Feuz, Switzerland, 1:46.23
-
20. Steven Nyman, Sundance, UT, 1:47.34
25t. Erik Fisher, Middleton, ID, 1:47.64
44. Wiley Maple, Aspen, CO, 1:48.96
46. Ted Ligety, Park City, UT, 1:48.99
52. Tommy Ford, Bend, OR, 1:50.94
---

2061 Comments on "Vonn 16th in slalom as Riesch fails to finish; overall lead down to just 23 points"