Vail Council may vote to back controversial Hidden Gems wilderness proposal
Nothing gets the hackles up quite as quickly these days as broaching the Hidden Gems wilderness proposal. Just bringing up the concept is enough to turn a cocktail party into a tea party on wheels.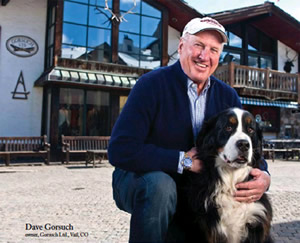 A
coalition of conservationists
, fans of lower impact forms of outdoor recreation and high-country residents interested in preserving more of the national forest around them has banded together to advocate for up to 342,000 additional acres of wilderness in Colorado – much of it in Eagle County and the surrounding White River National Forest.
Off-road vehicle enthusiasts
, mountain bikers and supporters of some of the extractive industries on public lands, such as mining, oil and gas and logging interests, have rallied to try to defeat the proposal, which is being weighed by
U.S. Rep. Jared Polis, D-Boulder
, for possible sponsorship in the next session of Congress.
The
Vail Town Council
will jump into the fray Tuesday when it considers approving a resolution of support for Hidden Gems, which could create 14 additional stand-alone wilderness areas and expand 26 others in the White River and Gunnison national forests. Eagle, Summit, Gunnison and Pitkin counties are the most impacted.
"As drafted, Resolution No. 21 states the Town Council's support for expansions to the existing Eagle's Nest and Holy Cross Wilderness areas in the vicinity of the town, and in areas in which the town has shown great interest in the past," Vail officials said in a release Friday.
The town went on to identify those
areas of interest
, including Spraddle Creek, Freeman Creek, Corral Creek, Elliot Ridge, Homestake and No Name. And the resolution was only drafted after boundary adjustments were made to address wildfire concerns by the Vail Fire Department.
"The resolution also urges Colorado's congressional delegation to approve the wilderness designation in those areas in as timely a fashion as possible to leave a balanced public lands legacy to future generations and as a showcase of the town's present stewardship," the town statement read.
"Balanced public lands legacy" is code in some circles for the Obama administration continuing its takeover of the world, including the right to ride ATVs, snowmobiles and mountain bikes in the national forest. Activities in wilderness areas are restricted to hiking, camping, hunting, fishing, kayaking, rafting, snowshoeing, cross-country skiing and horseback riding. In other words, no motorized vehicles – and no industrial activity.
That suits longtime Vail resident Dave Gorsuch just fine. He put his name on
a new ad campaign by the Pew Environmental Group
that's running on The New York Times website and in other major national publications.
"Born to a mining family, I grew up a ski racer, and now I'm a businessman and rancher," reads the copy attributed to Gorsuch, who's owner of the Gorsuch Ltd. retail stores in Vail and Aspen. "If we want to protect our economic future, we must maintain the beauty, clean air, forests and wildlife habitat we have left. I want my grandchildren and their grandchildren to experience these mountains as I have."
But for members of the White River Forest Alliance, vehicle access does not equate to environmental destruction.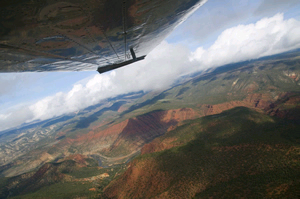 "Have any of you ever driven to a high country lake to go fishing, taken an ATV up a mountain road, gone snowmobiling in the White River or Gunnison National Forest?" asks the group's website. "How would you feel if a group of well-organized people with deep pockets legally locked you out of our public lands and took away your access? That is exactly what they are trying to do."
Polis, who represents the district that includes Vail and Eagle County, says he just wants to sort through rhetoric on both sides of the issue.
"Undoubtedly and unfortunately, extreme points of view will enter this discussion, but we must all work together to put passions aside and stick to the facts," Polis wrote in a letter to constituents.
---

381 Comments on "Vail Council may vote to back controversial Hidden Gems wilderness proposal"