Colorado coal industry blasts natural gas producers for fudging numbers on climate change
But coal mining also comes with methane emissions baggage
Colorado's coal industry is on fire lately, going after natural gas producers with gusto in the wake of last year's controversial Clean Air, Clean Jobs Act, which requires Xcel Energy to convert several coal-fired power plants on Colorado's Front Range over to natural gas or alternative fuel sources such as wind and solar.
Gas is touted as burning up to 50 percent cleaner then coal and dramatically reducing carbon dioxide emissions as well as the amount of nitrogen oxide, sulfur dioxide and mercury spewing into Colorado's air. Colorado coal backers, however, strongly dispute the notion that natural gas is superior at all in terms of reducing greenhouse gas emissions.
In a
recent ad in the Denver Post (pdf
), a political nonprofit coal industry front group called
Affordable Reliable Energy Colorado
loudly proclaimed "Natural Gas is not a carbon answer. The Colorado Public Utilities Commission (PUC) has forced an expensive natural gas-switching plan on the state that creates excessive costs and no environmental gain."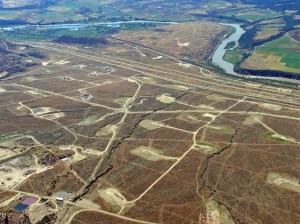 The coal industry over the last several months has
aggressively gone after members of the PUC
who approved the plan and also had a hand in crafting the legislation, which was meant to get the state in compliance with looming U.S. Environmental Protection Agency (EPA) clean air rules. GOP state lawmakers, some from key coal-mining regions, also blasted the "job-killing agenda" of the PUC and former Gov. Bill Ritter, a Democrat.
The recent Denver Post ad cited an assessment of the
greenhouse gas footprint of natural gas drilling (pdf
) — specifically the technique of hydraulic fracturing — by a professor of ecology and environmental biology at Cornell University. And it also leaned heavily on an analysis of EPA data by the investigative website ProPublica showing the 50-percent figure doesn't account for methane emissions during gas production or the piping of gas to power plants.
"A recent
analysis of EPA data by ProPublica
, a Pulitzer Prize-winning investigative newsroom, calls green claims about natural gas into question, noting that most assumptions fail to consider full lifecycle natural gas emissions," the ad reads. "Natural gas drilling emissions account for at least 20 percent of human-caused methane in the atmosphere, which the EPA expects to increase dramatically with more drilling."
Methane, the key constituent in natural gas, is 20 times more potent than carbon dioxide as a greenhouse gas, according to the EPA. But the ad also fails to mention the amount of methane produced by Colorado's coal mines – most of which is simply vented into the atmosphere as a safety precaution rather than captured for energy or flared off to reduce its impacts.
"This [ad] is amusing since the coal industry in Colorado is doing nothing to address its own uncontrolled methane pollution, despite the fact that technology — capture, flaring, electricity production, offsets — could easily address the issue," said Ted Zukoski, an attorney with the environmental law firm
Earthjustice, which has sued federal regulators
to compel them to at least consider alternatives to allowing coal mines to simply vent methane gas.
Active coal mines account for about 12 percent of all methane emissions in the United States,
according to the EPA
– a figure that's even higher if abandoned coal mines are taken into account. In Colorado, Holy Cross Energy – an electric co-op on the Western Slope – is working with a developer on a
plan to capture and utilize coal-mine methane
from a mine near Paonia.
Representatives of Affordable Reliable Energy Colorado did not respond to repeated requests to be interviewed.
Tisha Schuller, president and CEO of the Colorado Oil & Gas Association, issued the following email statement to The Colorado Independent (TCI) in response to the Denver Post ad:
"Lifecycle emissions are important when reviewing the benefits of any energy source on carbon reductions. The natural gas industry in Colorado is continually improving its operations, including reducing emissions. We want to maximize the natural gas in the pipeline that goes to market. Our continued methane emissions reductions make good environmental and good business sense, just like choosing natural gas for power.
"Plus, using natural gas for power generation would reduce nitrogen oxide emissions up to 80 percent, sulfur dioxide emissions by 55 percent and mercury emissions by 30 percent. Moving to natural gas for power generation presents a Colorado solution by Colorado stakeholders, as opposed to a potentially heavy-handed federal piecemeal approach that would cost Colorado a great deal more."
The ad goes on to point out the higher cost of natural gas, its wide price swings and the possibility that "green coal technologies would achieve a 75+ percent emissions improvement to achieve the state's environmental goals without the enormous electricity cost increases projected with natural gas."
But other experts interviewed by TCI questioned "clean coal" claims and the long-term cost advantages of coal as the state's primary power source.
"Coal is cheap, and there are ways to reduce its carbon footprint, but progress seems to have been very slow on realizing the potential [of clean coal]," said Jeremy Boak, director of the Center for Oil Shale Technology and Research at Colorado School of Mines in Golden. "The issue here, which the coal people do have right, is that methane … is indeed more than 20 times as potent as a greenhouse gas.
"This means that leakage of methane at any point in the system has a very disproportionate effect on the atmosphere. Companies are generally at some pains to reduce those emissions, as every cubic foot leaked is revenue lost, but the [natural gas] industry does need to address the issue of fugitive emissions."
Randy Udall of the Association for the Study of Peak Oil – USA says increased domestic natural gas production resulting in part from hydraulic fracturing advances has made conversion of older coal plants over to natural gas more economically feasible.
"The economics of retiring older coal plants have been greatly improved with the expansions of U.S. natural gas production that we've seen – a 20 percent increase over the last six years," Udall said. "So in a way that's what's driving [the coal versus natural gas schism], and the fact that the Front Range would have been out of compliance with EPA air quality standards if you didn't retire some of these older coal plants."
Udall adds the Clean Air, Clean Jobs plan is also reasonable purely from an environmental standpoint.
"The deal struck last fall [Clean Air, Clean Jobs] and sort of anointed again this year to go ahead and retire some 30-year-old coal plants and replace them with cleaner natural gas combined cycle plants and renewable energy like wind and solar makes sense for the state – certainly it will be good for air quality and human health on the Front Range," he said.
---

4 Comments on "Colorado coal industry blasts natural gas producers for fudging numbers on climate change"