House GOP blasts Salazar's Wild Lands order as conservationists condemn oil and gas 'land grab'
House Republicans today began a week of what will no doubt be heated hearings aimed at blocking Interior Secretary Ken Salazar's Wild Lands order that directed the U.S. Bureau of Land Management (BLM) to protect millions of acres of federal land for its wilderness value.
Issued in December of last year, Secretarial Order 3310 compels the BLM, which manages more public land than any other federal agency, to take public input from locally affected communities and then use its existing land planning process to designate appropriate areas as "Wild Lands" and manage them accordingly.
Western lawmakers, mostly Republicans, are up in arms about what they perceive as the federal government locking up public lands, blocking energy extraction and mining interests and killing jobs in areas already hard-hit by the global recession.
"Millions of acres of multi-use land in the West are at risk of being locked up if the administration carries out this [wild lands] policy," said Rep. Doc Hastings, R-Wash. Hastings chairs the House Natural Resources Committee, which held a hearing today on Salazar's order. Next up is a hearing on the Department of Interior's budget on Thursday, followed by a BLM budget hearing on Monday.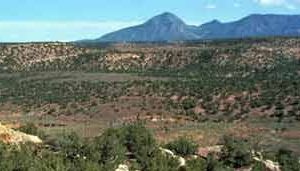 Salazar, a former Colorado senator and attorney general, says he's simply restoring balance to BLM land management policies after the federal agency was stripped of its comprehensive wilderness policy during the Bush administration in 2003 by then Interior Secretary Gale Norton, also a former Colorado attorney general.
"Americans love the wild places where they hunt, fish, hike, and get away from it all, and they expect these lands to be protected wisely on their behalf,"
Salazar said in a release at the time of his order
. "This policy ensures that the lands of the American public are protected for current and future generations to come."
BLM Director Bob Abbey said his agency is merely doing what the public requires it to do.
"The new Wild Lands policy affirms the BLM's authorities under the law — and our responsibility to the American people — to protect the wilderness characteristics of the lands we oversee as part of our multiple-use mission," Abbey said.
Also today, Rep. Denny Rehberg, R-Mont., and Rep. Raúl Labrador, R-Idaho, held a press conference with Idaho Gov. Butch Otter to both blast Salazar's Wild Lands order and announce pending legislation that would require congressional approval of new "Wild Lands" and national monument designations in Montana. The bill will be titled the Montana Land Sovereignty Act.
"A lot of the policy that's being imposed on western states like Montana and Idaho is really hurting job creation and delaying economic recovery," Rehberg said in a release. "Between usurping our wolf management, hatching secret plans to designate millions of acres of new national monuments and the systematic denial of access to our own natural resources, it's not surprising some have referred to this as a 'war on the West'"
Matthew Garrington, the Denver-based deputy director of the
Checks and Balances Project
, an online accountability and transparency project focused on drilling issues, said oil and gas companies have "locked up over nearly 30 million acres of public lands in the Intermountain West administered by the BLM." He adds that, according to BLM statistics, for every one acre of land protected as wilderness there are 42 acres of BLM land leased for drilling.
"This whole idea that there's not enough access [to BLM land] just is not true," Garrington said. "In fact, it's the opposite. The oil and gas industry is doing a speculative land grab and sitting on 20 million acres of public land." The industry is currently
only use a little over a third of the BLM land
it has leased for drilling, Garrington added.
---

54 Comments on "House GOP blasts Salazar's Wild Lands order as conservationists condemn oil and gas 'land grab'"