High-dollar homes still selling in Vail, Aspen despite lingering economic woes
One sign the economy may be recovering is the recent resurgence of Colorado's high-end mountain real estate market.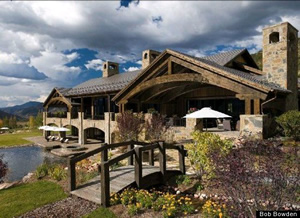 Eagle County, home to Vail and Beaver Creek ski areas, saw the dollar volume of real estate sales more than double in the first five months of 2010 compared to the same period in 2009, according to Land Title Guarantee Company.
While still far below the glory days of 2007, the upward trend is encouraging to brokers trying to figure out if the market has hit bottom, and it appears the nation's wealthiest home buyers may be feeling more confident about buying luxury mountain properties.
There were 12 transactions totaling $42 million in Vail Village in May – six of the homes selling for more than $4 million.
In the even higher-end Pitkin County real estate market – home to Aspen and Snowmass – the purchase last month of a $24.5 million ranch and home by hedge fund operator John Paulson is seen as a sign the luxury home boom days may be back sooner rather than later.
"It's a great sign for the Aspen market," a broker told the online news site Real Aspen earlier this month. "If he is bullish on Aspen to the tune of $24.5 million, that gives other buyers incentive. They see that Aspen real estate is a sound investment."
Paulson's purchase, however, isn't even close to the Pitkin County ranch record of $47 million in 2006. It's just the biggest sale since a $43 million ranch sale in July of 2009
Land Title's Trevor Theelke said the Paulson purchase would be a record in Eagle County, where the highest single-family home sale was for $24 million on Vail's Forest Road in 2006. The biggest ranch sale ever in Eagle County was the Castle Peak Ranch for $23 million in February of 2004.
More than 5,000 acres of un-platted land between Minturn and Red Cliff off the backside of Vail Mountain – including the abandoned mining town of Gilman – sold to a Florida developer for $32.75 million in December of 2004. Plans to develop that property into a private ski and golf community stalled when the global economy collapsed in the fall of 2008.
Still, Led Gardner of Slifer Smith & Frampton Real Estate – the top brokerage firm in Eagle County – said there have been a number of big sales even during the recession.
"We've seen here in the Vail Valley some of the highest priced sales over the last two years that we've ever had," Gardner said. "We had a big one over in Beaver Creek at the top of Borders (Road) last year. We sold a $15 million home in Mountain Star a little over a year ago. Even when times were good those were really notable sales for our market here."
He added that it's hard to compare the Aspen and Vail markets.
"A client of mine I'm working with now spent a day over in Aspen just last week and said, 'Now I understand why I own in Vail,'" Gardner said. "Even if the market's way down over there, they start at such a high bar. You say a property's been reduced $5 million, you're still talking about a $10 million or $15 million property."
Gardner doesn't necessarily view the Paulson sale in Aspen or other big sales in Eagle County as a sign that another mountain real estate heyday is right around the corner.
"I don't personally think that it's a sign that we've bounced and now everybody's jumping back in," he said. "I just think there are select buyers out there who recognize the opportunity being presented and are taking advantage of it."
---

34 Comments on "High-dollar homes still selling in Vail, Aspen despite lingering economic woes"